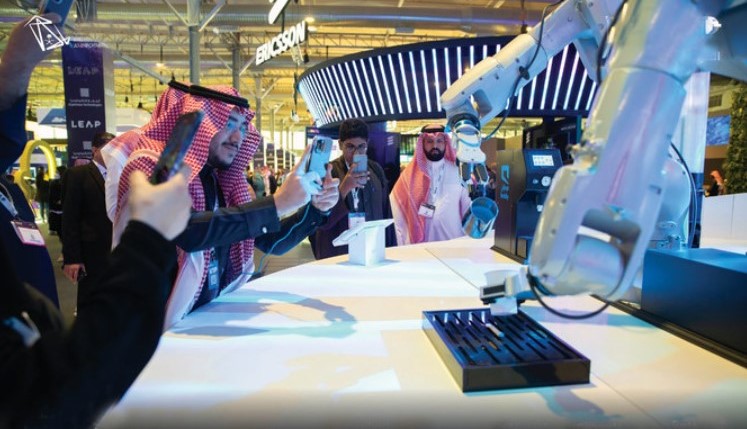 The Middle East and Africa (MEA) region is projected to experience the world's most rapid spending growth in artificial intelligence (AI), with a compound annual rate of 29.7% from 2022 to 2026, resulting in $6.4 billion in expenditures by 2026.
The UAE and Saudi Arabia, two of the region's most dynamic economies, are driving this growth.
In 2023, AI spending in the MEA, including Israel, is expected to reach $3.0 billion, representing only 2.0% of the global total of $151.4 billion, according to the most recent forecast from the International Data Corporation.
The UAE, which aims to double the contribution of its digital economy to GDP to 19.4% from 9.7% in ten years, is predicted to invest $20 billion in technology, including AI, IT, robotics, and blockchain, over the next three years, according to a recent report by the Boston Consulting Group.
Manish Ranjan, a senior program manager at IDC MEA, stated that the rapid adoption of cloud and digital transformation in the Middle East and Africa (MEA) will lead to the integration of AI into numerous products and solutions.
He further explained that the region's organizations are investing in AI technologies, related software, and services to improve efficiency through automation and establish a more flexible operating environment, especially in banking and finance, manufacturing, trade, healthcare, and government verticals.
PwC also predicts that the Middle East is expected to receive $320 billion or 2.0% of the total global benefits of AI, estimated at $15.7 trillion, by 2030.
In 2030, AI is expected to contribute over $135.2 billion to Saudi Arabia's economy, equivalent to 12.4% of its GDP, while the UAE is expected to experience the largest impact of almost 14% of its 2030 GDP.
According to the IDC's Worldwide Artificial Intelligence Spending Guide, the MEA region will see significant investment in AI from industries such as banking, retail, federal/central government, and discrete manufacturing.
These four sectors are projected to account for almost half (44%) of the region's total AI spending in 2023. Meanwhile, professional services and transportation are expected to experience the highest growth rates, with respective compound annual growth rates (CAGRs) of 36.4% and 33.9% over the five-year forecast period.
Despite the region's promising outlook, the increasing adoption of AI will pose several challenges, such as the shortage of skilled resources. However, initiatives aimed at upskilling local talent are being established by both public and private organizations to address this issue.