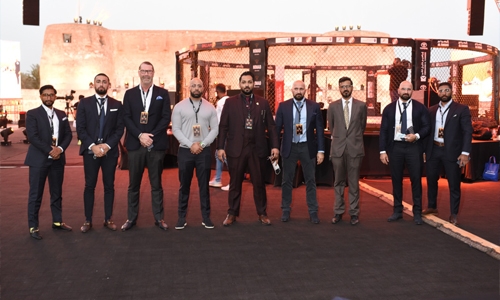 Proof of Trust seeks to support GCC governments in providing blockchain solutions and train bahrainis
The Proof of Trust, the world's first globally patented smart contract validation and automated dispute resolution platform, collaborates with the Kingdom of Bahrain through KHK Holding, founded under the patronage of His Highness Shaikh Khalid bin Hamad Al Khalifa. KHK Holding Company has a legacy in a multitude of sectors such as Sports, Media, Trading & Retail, Finance, Medical, Technology and Real Estate.
In 2017, the government launched its 'StartUp Bahrain' programme which has led to growth of nearly 50% in Bahrain's startup ecosystem. Technology spending is also estimated to grow at an annual rate of 8.6% over the coming three years – demonstrating its hunger for innovation.
The Proof of Trust's hub will meet the needs of the burgeoning tech sector by giving Bahrainis the opportunity to join educational courses run by The Proof of Trust through which they will be able to work for the Company within the region
Sakhib Waseem, Chief Innovation Officer at The Proof of Trust said: "The Kingdom of Bahrain has demonstrated an incredible level of dedication to building its nascent technology industry. As we enter the transitionary period out of the Covid-19 pandemic, governments and the private sector alike are seeking new ways to ensure business continuity to support economic recovery and protect against future black swan events. The Proof of Trust can provide solutions in support of both objectives through our innovative, IBM-backed protocol.
One of the products offered by The Proof of Trust is
Nimbus platform
DeFi for Shariah compliant investment.
"It's highly welcoming tech and business environment make Bahrain the perfect launch-pad for The Proof of Trust in the region, and we look forward to working closely with our in-country partners to deliver novel solutions to some of the world's biggest problems."
Mohammed Shahid, Chairman of KHK Holding said: "As pioneers of innovative technology in the Gulf, we are very proud to be collaborating with The Proof of Trust to bring the power of its protocol to Bahrain. Working with The Proof of Trust, we hope to create new technology-based opportunities for our people and further enhance our business landscape."
Following a busy quarter of expansion, the collaboration in the Kingdom of Bahrain marks The Proof of Trust's entry into the Gulf region, providing access to the Gulf Cooperation Council's single market which includes the U.A.E., Oman, Saudi Arabia, Qatar, and Kuwait, presenting further opportunities to deploy its disruptive technology across the region.
The Company sees numerous opportunities to drive the adoption of its unique protocol to help governments in the region foster a welcoming business environment, stimulating exponential economic growth.