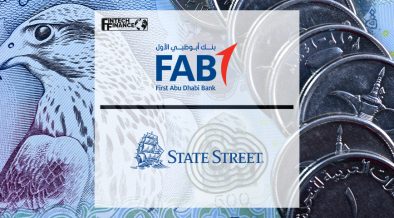 The partnership will incorporate the largest direct custody network in MENA, and comes one month after State Street announces its State Street Digital division led by Nadine Chakar
First Abu Dhabi Bank PJSC (FAB) and State Street Corporation (NYSE:STT) has
signed
a strategic alliance that leverages FAB's regional securities services expertise, incorporating the largest direct custody network in the Middle East and North Africa (MENA), and State Street's global strength and capabilities. The alliance will create a full-service enterprise offering for institutional investors in the region. It will provide MENA investors with extensive reach into more than 100 markets around the world, an unrivalled product range servicing all major listed and unlisted asset classes, delivered by in-country client service teams in the UAE, Saudi Arabia, Kuwait, Oman, Bahrain and Egypt.
Clients will have access to State Street's full suite of front, middle and back office capabilities, in addition to its extensive data management and analytics solutions, which seamlessly integrate with FAB's regionalised suite of securities services products, local expertise and regional direct custody network.
Hana Al Rostamani, Group Chief Executive Officer of FAB, commented: "The Middle East investment landscape is distinctive with some of world's largest sovereign wealth funds alongside a diverse range of private investment institutions. These investors require access to sophisticated investment tools and solutions across both their MENA and global investments. The alliance between FAB and State Street creates a unique platform, delivering leading capabilities across the entire investment value chain that cater for the characteristics of regional and global investments. We are excited to showcase how this will elevate investment servicing in the region."
Ron O'Hanley, Chairman and Chief Executive Officer of State Street, commented, "This partnership between FAB and State Street presents a unique proposition for MENA investors and those who invest in the region. Clients are looking for financially secure and operationally resilient partners who can manage the non-core elements of their business, helping to deliver operational efficiencies, reduce costs, mitigate risks and navigate complex regulation. They also desire to access global best practices and scale and a partner who understands the local challenges and constraints they face, and one who has the flexibility to seamlessly adapt to these changes. By leveraging the best of both global and regional expertise offered by the collaboration of our two organisations, we will provide a truly customised and flexible service model that proactively drives innovative solutions to meet our clients' needs."
The partnership comes after State Street
announced
in June 2021 that it was launching a new division focusing on digital finance called, State Street Digital, led by Nadine Chakar. The division will provide their clients with solutions for both their traditional investment needs as well as digital needs. The new division will build on State Street's current digital capabilities and will expand to include crypto, central bank digital currency, blockchain, and tokenization. Our proprietary GlobalLink technology platform will be an integral component of State Street Digital and will be enhanced into a digital multi-asset platform. The objective is to evolve the platform into a multi-asset platform to support crypto assets among other asset classes. The aim will also be to support our peer-to-peer ambitions by creating new liquidity venues for our clients and investors worldwide.
"We have been developing a number of digital capabilities and other solutions as well as partnering and investing in the infrastructure that forms the foundation of State Street Digital," said Nadine Chakar. "State Street has a major role to play in the evolution of digital market infrastructure and this new division will help us bring our expertise and resources to the conversation. As digital currencies and tokenization not only gain momentum, but transform financial infrastructure and operating models, we can help our clients bridge the gap between the industry of today and the one of tomorrow."
One can only ask if the new strategic partnership betwee UAE FAB Bank and State Street, will also include partnering on the digital asset services offering.