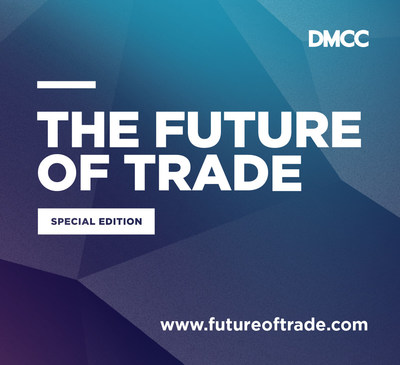 A study by PwC (2020) projected that blockchain technologies could boost the global economy by US$1.76 trillion by 2030
UAE Based DMCC ( Dubai Multi Commodities Center) has released its Future of trade 2021 report, where it emphasizes the role of Blockchain, DeFi, and CBDCs in the growth of global trade and its efficiencies. According to the research, the most transformative element of the global trade outlook is technology. DeFi protocols have seen a considerable amount of funds invested. Since the start of 2021 alone, the total value locked into DeFi has tripled from approximately USD 20bn to USD 60bn. As digital infrastructures grow, they will continue to accelerate a ground-breaking shift in trade from the national to the global.
Blockchain
According to the report, " The adoption of blockchain, and the rise of cryptocurrencies, have accelerated rapidly in the last year. While some still see them as technologies in transition, they are maturing to a point where they will have a significant impact on the way in which global trade is conducted. Previous Future of Trade reports, along with others including the WTO, have heralded the revolutionary impact of blockchain technology on trade. And yet, it failed to reach mainstream use; some businesses interviewed for the 2020 Future of Trade report labelled the technology as a "solution looking for a problem". There are signs in 2021 that this is changing, and recent proof-of-stakes in blockchain technology is looking promising. Increasingly, blockchain technology can be applied to facilitate key aspects of international trade: trust, efficiency and access to finance."
The impact of blockchain on contracts and dispute resolution accounts for a further US$73 billion. These figures track with WTO projections that blockchain could result in more than US$1 trillion in new trade in this decade through the removal of trade barriers.
A WTO-TFG survey indicates that most firms (80.5%) already considering blockchain have experienced a positive benefit to their plans and activities as a result of the pandemic (Patel and Ganne, 2020). Interest in blockchain has been supported by the overall acceleration of digital processes in banks and other institutions during national lockdowns.
CBDCs
Charles d'Haussy, Managing Director – APAC, ConsenSys who was interviewed in the report states, " CBDCs move most efficiently on blockchain pipes: 1 RMB from one central bank to another in blockchain, is exactly the same. By building blockchain infrastructure, you have efficiency. You have to look at the rise of the central bank digital currencies as a value chain. Looking at the value chain of finance and trade, everything starts with money. The beginning of this value chain process is starting to change with digital currencies, so everything in the ecosystem will be impacted."
He adds, " Everything will adapt to digital money, which is far more efficient, accessible, programmable – and crucially – composable. In a unit of currency being composable, I can start to re-compose it in various ways that was previously impossible outside of the world of financial market derivatives. CBDCs are not about faster money – the world doesn't need more fast money – the world needs a new kind of money that becomes programmable and composable. This will have a deep impact, triggering a movement from old systems to new systems. Markets will decide the pace of this change. Every country wants to transact but the financial regulations make it extremely complicated and expensive. In practice, with digital currency engines, I can create a new type of Dirham – one that would be available with the KYC of the sender."
Ahmed Bin Sulayem, Executive Chairman and Chief Executive Officer, DMCC, said: "In 2020, the outlook for global trade was bleak as the world sought to grapple with the impact of the pandemic. Today, the picture is much more positive, as evidenced by the findings of our latest Special Edition Future of Trade – 2021 report. But while global trade has shown its resilience, it is simultaneously in the midst of profound change. Technology, changing consumer behaviours, the drive to combat climate change, and geopolitics will all be key contributors to its reshaping in the years ahead. In this context, our research puts forward a number of tangible recommendations to governments and businesses seeking to navigate this new landscape and accelerate the recovery from the pandemic."