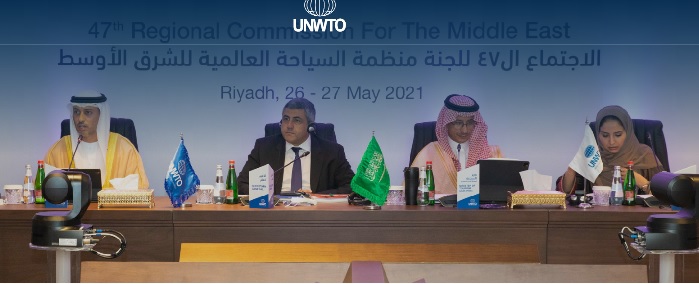 The UNWTO ( United Nations World Travel Organization) Region Commission for Middle East met last week in Riyadh KSA after officially opening a UNWTO Regional Office in the Middle East. During the meeting discussions centered on adopting a coordinated approach to develop unified protocols for safe and responsible travel through the region. As agreed the UNWTO Middle East member states will work together to harmonize travel protocols by implementing common digital health solution to facilitate travellers' experience through interoperability and Blockchain as technologies to help develoop common standards. They also agree to implement the IATA-UNWTO destination tracker, a monitoring system to track health data, regulations and movements across borders and to protect the health and welfare of the region's 450 million inhabitants.
"This agreement opens a new chapter in regional tourism across the Middle East and sets a standard of collaboration for other regions," said Zurab Pololikashvili, UNWTO Secretary General. "Nations around the world are struggling to overcome the pandemic that has such a devastating impact on the global tourism sector. The more countries seek to follow an independent path out of the crisis, the longer it will take to rebuild the millions of livelihoods affected. It is only through unity and collaboration across borders that we can move beyond these dark times and make the benefits of tourism available to the world once more.
His Excellency Ahmed bin Aqil Al-Khateeb, Minister of Tourism of the Kingdom of Saudi Arabia also addressed the Regional Commission, held during an historic week for the Kingdom, UNWTO and tourism in the Middle East. He said: "Saudi Arabia is proud to have played a role in this critical announcement, which will create a new path forward for the Middle East tourism sector, not only in recovering from the coronavirus pandemic but in building a new regional culture of collaboration and coordination for tourism across the Middle East."
Against the backdrop of the landmark opening of the new UNWTO Regional Office in Riyadh nominations and elections to the statutory organs of UNWTO and their subsidiary bodies were also held, fulfilling UNWTO's commitment to protocol even in challenging times. Egypt was voted to serve as the Chair of the Regional Commission for the Middle East for 2021-23, following on from the United Arab Emirates whose two year-term will end at the upcoming UNWTO General Assembly in Marrakesh in October. Additionally, the Kingdom of Saudi Arabia put forward its candidacy to host World Tourism Day when it rotates back to the Middle East region in 2023. Member States will be asked to ratify the candidacy at the General Assembly.