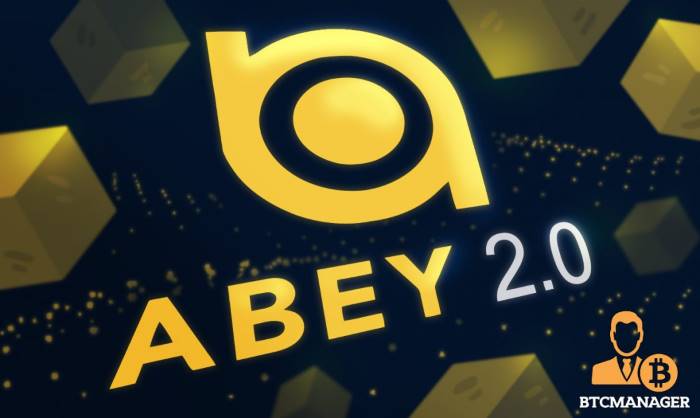 The ABEY Foundation during the AIBC Summit Dubai launched ABEYCHAIN 2.0 which is said to deliver significant advancements in blockchain technology and powerful new features for software vendors and businesses across the world. Brian Rogers, Director of the ABEY Foundation presented new feature packages which extend the blockchain ecosystem into data storage, decentralized finance (DeFi), expanded smart contracts, stablecoin and NFT. Rogers said, "ABEYCHAIN's hybrid architecture allows for transaction speeds surpassing many of the mainstream blockchains, and with the features introduced today, we're delivering a blockchain ecosystem that accelerates the development of a decentralized economy."
ABEYCHAIN 2.0 boasts more than 150,000 users in an ecosystem that empowers developers to leverage smart contracts and create robust Decentralized Applications (dApps). "Since March 2021, ABEYCHAIN has added tens of thousands of unique users and has seen the ABEY ecosystem grow its base by over 50%" said Rogers. ABEYCHAIN 2.0 is a hybrid consensus multi-layered programmable blockchain system which incorporates Delegated Proof of Stake (DPoS) and Proof of Work (POW) consensus for high-volume and high-speed transactions.
"At the conference I was happy to announce our powerful new NFT platform, Music.Net, built on ABEYCHAIN 2.0, and launching in Summer 2021," said Rogers. "Classic hip-hop supergroup Naughty by Nature is the first exclusive music artist partnership on Music.Net, and we are thrilled to be at the leading edge of the future of music," said James Maynes, Naughty by Nature's manager. Music.Net will also launch with the full slate of musical acts from music and entertainment company VNATION!, including Niko Brim, MJ Songstress, Kev Rodgers, MVXMILLI and Julian King.
"The processing speed of ABEYCHAIN 2.0 is impressive compared to non-hybrid chains," said Rogers. "ABEYCHAIN 2.0 adopts both a Slow Chain and a Fast Chain to ensure a high level of security, integrity and transaction speed while maintaining decentralization. ABEYCHAIN 2.0 moves at 10,000 transactions per second (TPS), faster than most mainstream blockchains today. An upgrade to our data sharding technology will further boost ABEYCHAIN to 150,000 TPS at peak performance."
ABEYCHAIN 2.0 was created, Rogers continued, with the ability to transfer assets onto or from other blockchains without delay, as cross-chain interoperability is necessary in a future that demands public blockchains be interconnected to thrive. Additionally, ABEYCHAIN 2.0 brings the all-new ABEY Storage Network, a decentralized file storage and distribution network that provides intelligent data storage to a worldwide user base. The ABEY Storage Network offers rewards to storage/retrieval miners in the form of the new ABEY Storage Token (AST) which has 100% parity with Filecoin and can be immediately traded at the same 1:1 price.
Rogers said ABEYCHAIN 2.0 strives to be a well-governed blockchain for the decentralized economy. "Our new DeFi platform, XSWAP, will quickly be adopted by the developer community for building new dApps with unlimited numbers of use cases on the ABEYCHAIN" said Rogers.