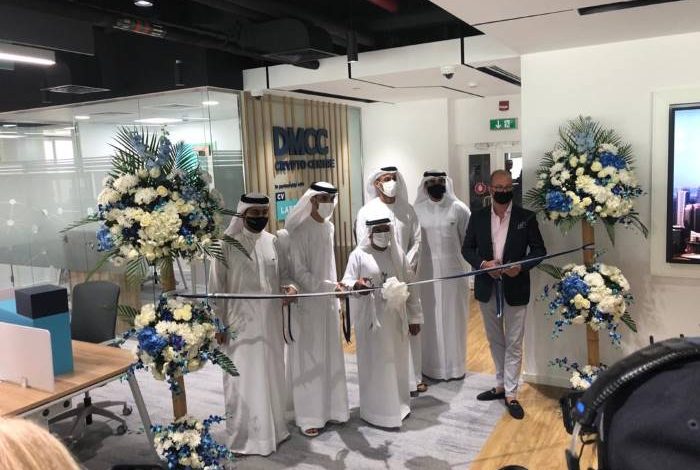 The long awaited Crypto Center based out of DMCC (Dubai Multi Commodities Center) has officially launched in Dubai UAE. The Crypto Center which is located in the state-of-the-art Almas Tower, with world-class services and infrastructure will be a thriving ecosystem offering a variety of services to innovators, entrepreneurs and pioneers.
A key number of dignitaries as well as companies attended the launch on May 24th 2021. Companies such as 4ARTTechnologies, Dubai Economy, Dubai FDI, CV Labs, and UAE based Sheesha Finance, as well as Securities and Commodities Authority in UAE were present.
DMCC's Executive Director Mr. Ahmad Hamza was also present and welcomed guests to the opening. He stated, "The Crypto Centre is a testament to DMCC's vision to drive the future of Trade and the UAE Government's support to grow crypto and Blockchain sectors."
"Crypto and blockchain technologies have an enormous potential to transform global trade and supply chains. This aligns perfectly with DMCC's vision to drive the future of trade and is one of the key drivers behind launching the DMCC Crypto Centre. With a progressive and supportive regulatory environment, a strong pool of industry talent, and an ecosystem that provides access to capital, resources and opportunities to crypto firms, the DMCC Crypto Centre is perfectly placed the support crypto businesses and advance global trade," said Ahmed Bin Sulayem, Executive Chairman and Chief Executive Officer, DMCC.
As explained on the DMCC CryptoCenter website, the CryptoCenter will serve clients and businesses with co work spaces, educational courses, events, community building, and advisory and incubation solutions.
DMCC and CV Labs had announced back in January of 2020 that they would be launching Crypto Center in DMCC
"With strong backing from the government as well as great interest from its flourishing business sectors, Dubai is poised to emerge as a global hotspot and leader for innovative blockchain companies and applications" said Ralf Glabischnig, Founder of CV Labs & CV VC. He added: "Together with DMCC we will be responsible for developing and managing the ecosystem in the UAE with its heart at the DMCC Crypto Center. We will offer a variety of services including incubation and investment opportunities for early-stage startups, innovation services for corporate clients, educational events for Blockchain and entrepreneurship as well as advisory services to assist Crypto/DLT startups establish themselves in the UAE and grow within our strong ecosystem."
In March 2021, DMCC and the UAE Securities and Commodities Authority established the onshore crypto assets regulation in DMCC. This was a very important prelude to the launch of the DMCC Crypto Center. Additionally CV Labs signed up KARM Legal as their ecosystem partner for DMCC crypto center.