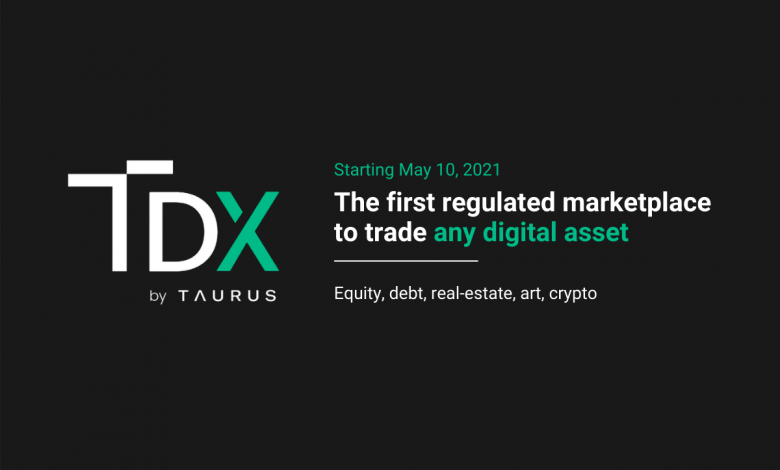 Taurus SA received a securities firm license from the Swiss Financial Market Supervisory Authority FINMA to operate the first independent regulated marketplace for digital assets in the world. The launch of Taurus' Digital eXchange "TDX" meets the increasing demand from banks and issuers alike to access an open and independent infrastructure for tokenized securities and private assets.
Taurus' Digital eXchange "TDX" is the first marketplace in the world to instantly connect banks, issuers and investors to exchange any digital asset. Through the tokenization of equity, art, real estate, crypto currencies and other assets, the new infrastructure solution is aimed at unlocking liquidity for banks, company founders and even artists, among others. TDX is built exclusively around Taurus' cutting-edge technology.
Oren-Olivier Puder, Chairman of the Board and co-founder at Taurus states, "The launch of TDX meets the increasing demand from banks to access a regulated, open and independent marketplace for digital assets. Our newest solution empowers them to remain at the heart of the future digital economy. Our vision has always been to build a unified platform that allows banks to manage any digital asset and connect private asset owners with professional investors easily."
Starting May 10, 2021, market players will be able to enjoy TDX's unparalleled levels of flexibility with regards to token standards and markets available.Securities issued by numerouscompanies and issuers, starting with Audacia Holding, a fast-growing e-commerce pioneer with 1.2 million clients, will be admitted for trading. Several banks and financial institutions are being onboarded as participants, including, among others, Arab Bank Switzerland, FlowBank, Hypothekarbank Lenzburg and SEBA Bank, as well as Investis Group, a Swiss stock-listed real estate company, and Stoneweg, a Geneva-based real estate investment company.
Sébastien Dessimoz, Managing Partner and co-founder at Taurus explains, "We are convinced that the tokenization of real assets is the future of investment. With this marketplace, small and medium companies, non-listed large corporations and real-estate companies will have access to greater liquidity and capital, which is currently only possible for large companies listed on the stock exchange. In the long term, you can certainly even imagine reducing ticket sizes and making club deals, so far accessible again only to a certain elite, to a broader market."
To operate TDX and thereby complement its market-leading digital infrastructure with secondary market solutions, Taurus has been awarded a securities firm license by FINMA allowing it to operate an organized trading facility as per art. 42 of the FinMIA. Obtaining the FINMA license represents a major achievement for Taurus, as it recognizes the quality of its team and proprietary technology that has been built from scratch since 2018.
In a digital asset ecosystem sometimes lacking liquidity for investors and SMEs, the regulated marketplace fills an important gap. With the Swiss DLT law that entered into force and clarified the legal regime for tokenized securities on February 1, 2021 and an increasing number of banks active in the space, we believe that all conditions are met to unlock the potential for private assets – which has been a firm belief of Taurus since day one.