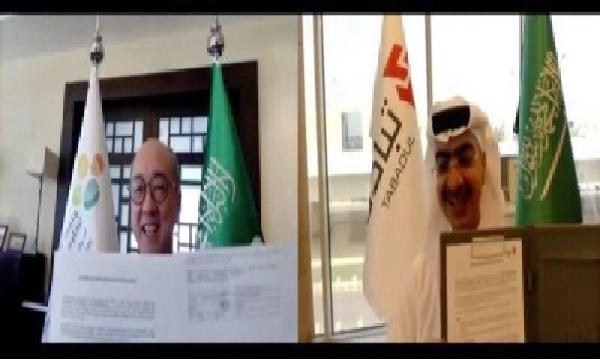 King Abdullah University of Science and Technology (KAUST) IS Collaborating with Tabadul, Saudi Arabia's leading digital logistics services provider, to undertake research and innovation projects which aim to create solutions to advance global trade in Saudi Arabia. Both parties signed a Memorandum of Understanding (MoU) during a virtual ceremony with KAUST President Tony Chan and Tabadul CEO Abdulaziz Alshamsi.
Tabadul will be able to tap into the KAUST talent pool and their expertise in the area of artificial intelligence (AI), Blockchain and related areas to enhance efficiency in logistics and mobility. Working together, KAUST and Tabadul plan to launch technology innovation activities which include hackathons, bootcamps and similar initiatives which KAUST has a successful and long track-record history of hosting.
"This new agreement marks a significant step in KAUST's strategy to partner with companies powering the next wave of innovation in Saudi Arabia," said Dr. Chan. "KAUST has significant strength in using AI and big data & analytics for automation solutions and we look forward to working with Tabadul to bring this expertise to the logistics industry."
With digitization as a key part of the transformation of international trade, Tabadul aims to provide digital integration to improve efficiency, increase transparency, and enhance the operational performance of global trade for the logistics sector to enable the exchange of information, goods and services across government and private businesses in Saudi Arabia.
The KAUST-Tabadul partnership is expected to roll out a number of spin-off projects that will bring diversity into a series of productive and futuristic solutions.
These collaborations will explore big data analytics and AI /machine learning (ML) solutions that will enhance Tabadul's innovative platforms. KAUST researchers will also have access to Tabadul's digital expertise through its Fasah Platform, an integrated import and export platform. "Working with a world-class institution such as KAUST is a milestone for Tabadul. The agreement will go a long way in providing the cutting-edge solutions to the research and development of the entire logistics ecosystem," said Feher Alshareif, chief strategy and innovation officer at Tabadul.
"Additionally, our mutual efforts will play a major role in realizing Vision 2030 to transform Saudi Arabia into a high-tech logistics hub within the region." Both organizations are exploring potential areas of collaboration and will be sharing know-how, trends and market data to guide their collaboration in this R&D of mutual benefit.