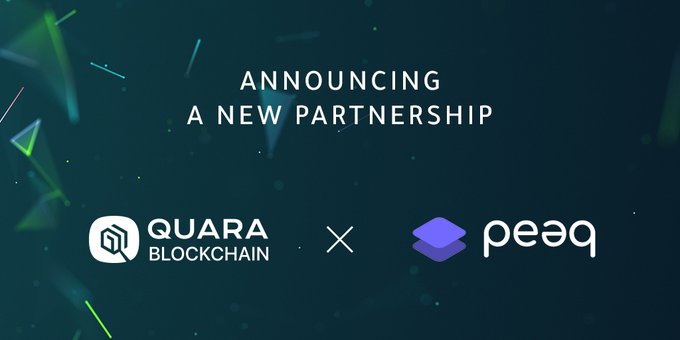 Quara Blockchain in partnership with peaq technology to provide DLT IOT solutions for access control
In a twitter post on Friday 26th 2021, KSA based Quara Holding, a strategic ecosystem of real estate and financial, and technology ventures, led by the vision of Yousef bin Adbullah al Shelash and several established Saudi families, and Quara Blockchain announced its partnership with Blockchain IOT entity peaq technology.
As stated in the tweet, "In 2021, Quara Blockchain will lead KSA into blockchain technology solutions. In partnership with peaq technology, the public and private sector can benefit from innovative software solutions to increase efficiency, transparency, and security.
This announcement comes two months after Quara Group Holdings announced its blockchain strategy under Quara Blockchain ventures where Quara Holding leverages its advanced digital capabilities, enabling better synergies across its various businesses, improving operations, and providing better products and services to customers. Quara Holding includes a digital business incubator for high-potential projects, targeting Saudi Arabia and the wider GCC region.
According to its CEO, Ziad El Chaar, "Changes in business trends allow Quara to adopt a flexible strategy with technology at its core. By investing in digital for its investment holdings and in the operations of its subsidiary businesses, we will achieve superior growth, profitability, and better customer service."
El Chaar also emphasized Quara Holding's ability to lead its companies towards financial innovation. "Based on our new business model, we are looking forward to achieving significant growth and enhancing the sustainability of our subsidiaries' competitiveness. We will continue on our path to digital transformation and will be introducing additional financial innovation including Blockchain and FinTech, both cutting-edge services which will play a vital role across multiple business sectors over the next decade," he noted.
Peaq technology, offers decentralized Blockchain solutions and platforms coupled with internet of things. As per their website, "Our technology allows these Things to autonomously interact and trade, creating an entirely new economy, the Economy of Things."
In a blog piece on Peaq technology website, the company announces its partnership with Quara Blockchain and states the following, " Quara Blockchain is one of the leading technology companies in the Middle East. They focus on impactful blockchain adoption by leveraging the strength of the Quara Holding ecosystem, one of the largest holdings in the Middle East, led by Ziad El Chaar. Quara Blockchain enables their clients in the financial services, real estate, industrial and government sectors to reap the benefits of blockchain technology."
The post adds, " Quara Blockchain is our partner in Saudi Arabia and is supporting the capability-building of blockchain for the Saudi Arabia 2030 Vision, which includes sustainable and futuristic mega-city NEOM, being built on the Red Sea area of Saudi Arabia and close to Israel, Jordan and Egypt which aims to become the most high-tech and sustainable city in the world. This partnership positions peaq's infrastructure technology and solutions, such as peaq access control, in a strategic position for adoption on these projects. Discussions are underway, clients are lined up and integrations are on the way. Together, we aim to leverage blockchain's most revolutionary qualities – inclusivity, transparency, efficiency and security, for positive impact in the Middle East."
Peaq access control solution harnesses the distributed Ledger technology' most powerful benefits, cyber security, transparency and decentralization for access control management. Peaq access control is a DLT based access control and management system. It allows organisations to manage all access rights and permissions from one place rather than via several individual access management systems. The system vastly improves security, reduces costs, streamlines processes, protects user privacy and increases transparency. peaq access control can be integrated with physical access points such as doors, locks and vehicles as well as digital access points such as networks and directories.