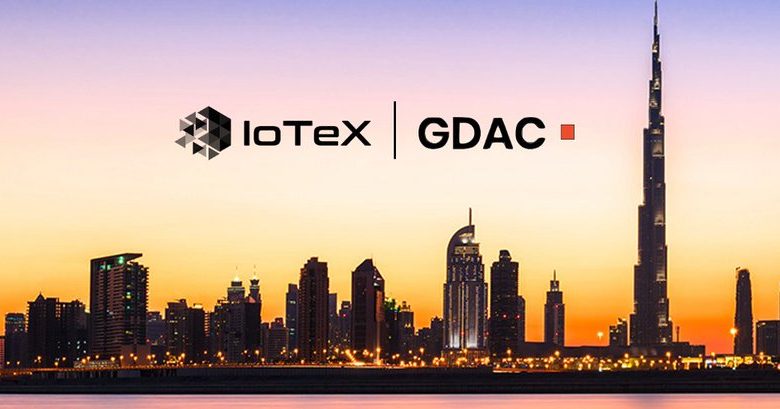 IOTex will be working in the UAE on use cases pertaining to blockchain based baggage tracking, supplychain and others
IoTeX, an internet of trust things, where all things, humans, machines, business and Dapps can interact with trust and privacy using blockchain, has partnered with Global Digital Assets Corporation (GDAC) a professional services company based in Dubai UAE & Australia. GDAC works with governments and large private organizations in fast growing economies (e.g., Middle East, Asia), helping to bring in new emerging technologies, use open innovation to solve large-scale problems, and work with regulators to create new economic opportunities. Prior to this GDAC had partnered with Elrond Blockchain platform.
In January 2020, GDAC was appointed by Smart Dubai and the Dubai Future Council on Blockchain (headed by Sheik Hamdan Bin Mohammed Al Maktoum) as a core partner to lead the Dubai Foresight Initiative to create a future technology roadmap and source prospective partners, such as IoTeX. Dubai has since released its own blockchain strategy aimed at making Dubai one of the first cities fully powered by Blockchain. The strategy covers three strategic pillars — Government Efficiency, Industry Creation and International Leadership — where the implementation of use cases for each pillar will be conducted by the Dubai government and select technology partners.
IoTeX will work with GDAC to explore futuristic use cases to be implemented and actioned in Dubai, as well as how emerging technologies can be used to facilitate a more seamless information flow between the public and private sectors. Over the past year, GDAC was able to identify 54 initial use cases, which have been refined and prioritized to 20 final use cases. Specifically, IoTeX is being considered for use cases regarding: blockchain-based baggage tracking, supply chain digitization, food chain transparency, and more. If selected, the use cases would apply similar technologies as currently built into "Powered by IoTeX" devices like Ucam and Pebble.
Although delayed by the global COVID-19 pandemic, the Dubai Foresight Initiative is currently evaluating use cases to support the Future Council in rethinking blockchain-native infrastructures, governance models, business models and technology initiatives. Accepted use cases will be announced as part of the Dubai Expo 2020 (postponed to Oct 2021), one of the largest global gatherings where Dubai will host the world over six months.