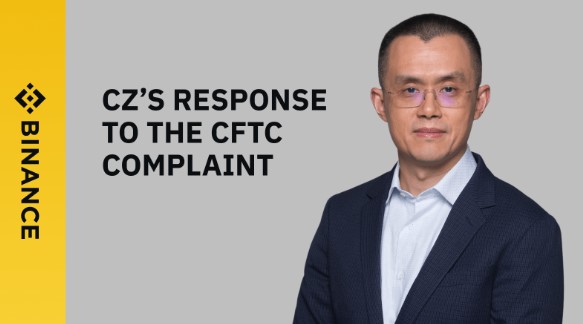 Binance's CEO Changpeng "CZ" Zhao has denied the accusations made by the Commodities Futures and Trading Commission, stating that the cryptocurrency exchange does not engage in market manipulation or trade for profit in any way.
On March 28, the CEO wrote a blog post in response to the CFTC's legal action against Binance and CZ for their alleged noncompliant procedures and trading. CZ called the accusations "an inaccurate representation of the truth."
According to the complaint filed by the CFTC, Binance allegedly conducted trades on its own platform through 300 "house accounts," but failed to inform its customers about this trading activity in its Terms of Use.
The CFTC further alleged that Binance kept this information confidential and refused to cooperate with commission-issued investigative subpoenas requesting information on its trading practices.
The statement also claimed that Binance did not implement any anti-fraud or anti-manipulation measures on the trading activity of Merit Peak, Sigma Chain, or the 300 house accounts.
Despite the allegations made against Binance, CZ argued that the platform engages in trading only for specific purposes, mainly to convert crypto revenue into fiat or other cryptocurrencies to cover expenses. CZ mentioned that he also uses Binance for his personal crypto holdings and to pay for expenses, including those related to Binance Card.
Furthermore, CZ denied the accusations of insider trading by Binance staff, stating that the company has strict policies in place to prevent such activities.
He clarified that Binance employees are prohibited from trading actively and are not allowed to trade in futures. Additionally, employees are not permitted to buy or sell coins based on any private information they have obtained.
CZ emphasized that he follows these policies himself and never participated in Binance Launchpad, Earn, Margin, or Futures. He believes that his time is best spent on building a reliable platform that caters to the needs of Binance users.
CZ expressed disappointment and surprise at the recent filing by the CFTC, especially since Binance had been collaborating with the regulator for more than two years.
According to Cointelegraph, the CFTC accused senior members of the company of actively facilitating violations of U.S. laws and instructing customers on ways to evade Binance's compliance controls. The statement also suggested that Binance's compliance program was only a "facade".
CZ, however, denied any lapses in compliance efforts and stated that Binance.com uses advanced technology to ensure compliance with AML and KYC laws.
He mentioned that the platform has more than 750 employees working to ensure that the business operates within regulatory boundaries.
CZ provided evidence of Binance's cooperation with U.S. LE agencies, stating that the company has assisted in freezing and seizing funds amounting to $125 million in 2022 and $160 million so far in 2023, in response to more than 55,000 LE requests.
Moreover, CZ highlighted that Binance.com holds 16 licenses to offer digital asset trading services, which is more than any other cryptocurrency trading platform.
For CZ's full response, click here.