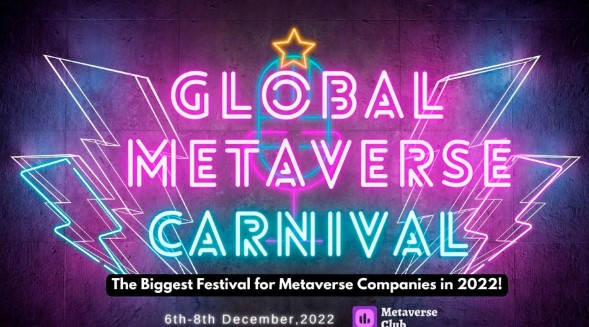 The Global Metaverse Carnival 2022 was held successfully on 06-08 December 2022, with 2900+ overseas attendees,580+ Chinese participants, and 150+ global partners!
The Carnival is well on its way to becoming global and China's largest metaverse event.
With a wide range of content and activities to choose from, the Global Metaverse Carnival 2022 talked about the global metaverse policies in different countries, the pain points of the metaverse development, investment opportunities, technology innovations, case studies, and collaboration opportunities.
The event invited 13 Metaverse & Web3.0 investors to discuss current investor perceptions of the metaverse industry and the markups used to evaluate projects. The event's investor speakers included Re7 Capital, Evgeny Gokhberg, Founder/ Managing Partner, Gumi Cryptos Capital, Miko Matsumura, General Partner, Hartmann Capital, Felix Hartmann, Founder and CIO, OP Crypto, David Gan, Founder, and General Partner, Mulana Ventures, Gilbert Ng, Partner, Blockchain Founders Fund, Aly Madhavji, Managing Partner, Holodeck Ventures, Paul Dawalibi, CEO, Mapleblock Capital, Deepak Basavaraju, India head, Dimoso, Jacki Vause, Founder, and CEO, Cointelligence Fund, On Yavin, Founder & Managing Partner, REDDY CAPITAL, Kevin Reddy, Managing Partner, Decasonic, Paul Hsu, CEO/Founder, XVC Tech, Aneri Merchant, Lead – Ecosystem Ventures.
The event's investors discussed a variety of topics, including:
Metaverse projects: what are investors looking for? How a venture capital evaluates Web3 startups? Is it suitable for ordinary people to invest? 
Investing in the Metaverse: what does the market look like? What kind of projects can stand out in a bear market?
Next Chapter of the Metaverse: is the metaverse and Web3 the same thing? How will success in the metaverse be measured for businesses? What potential of the Metaverse the investor should care about?
On the sidelines of the Global Metaverse Carnival, TheOne.art, one of the largest digital art e-commerce platforms in China, and CTO Mr. Yingxuan Li of TheOne.art shared his insights on the "New ecosystem under metaverse and Web3.0". The Professional Committee of MHP Law Firm, Chief Legal Adviser of TheOne.art,-Mr. Xiao Fang also took the stage to discuss the development and approaches of the Chinese digital art e-commerce platform.
The Global Metaverse Carnival event used a virtual system to set up virtual booths for exhibitors. The attendee used an avatar around the carnival to a private room for a meeting and tried to get past all the other avatars without getting sidetracked into other conversations. In this way, the attendees did some social networking and celebrated the upcoming Christmas together.