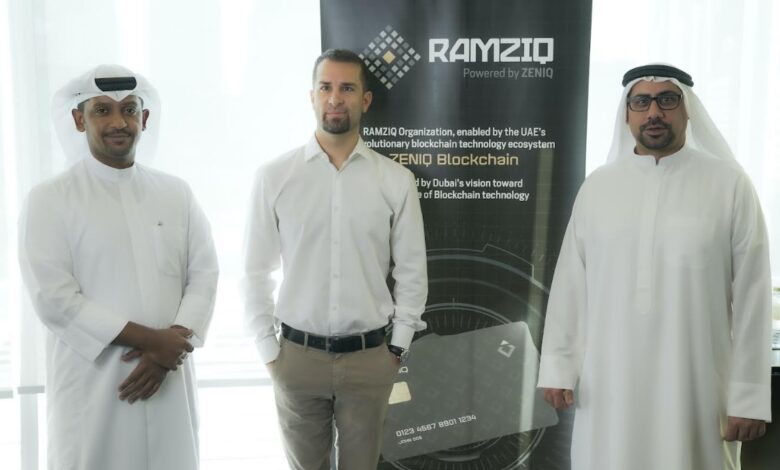 Dubai-based company RAMZIQ Group announced the expansion of ZENIQ's decentralized, secure, and easily accessible blockchain platform ecosystem in the United Arab Emirates.
RAMZIQ translates to "Your Token" in Arabic and underlines the group's mission, which is the move towards fully decentralized services.
The ZENIQ app, which is built on the ZENIQ blockchain and ecosystem, is completely integrated with the ZENIQ Hub – a stand-alone physical device to store, control, and manage digital assets on the highest level of security. All transactions and notifications from the digital wallet are provided to the customer through it. The app also has full access to the NFT marketplace.
By using the ZENIQ messenger, users can chat with each other or conduct transactions. The ZENIQ app is also linked to the ZENIQ Debit Card. The ZENIQ Smartchain, an innovative second layer blockchain, is fast and easy to use, and provides up to 10,000 transactions per second while offering extremely low transfer costs. ZENIQ also provides a decentralized exchange called the ZENIQ Swap.
Commenting on the launch of RAMZIQ Group, Founding Partner, Solaiman Al Rifai said, "The UAE government has been at the forefront when it comes to supporting organizations that want to build innovative blockchain technologies. We believe that the platform we are building will be a game-changer. RAMZIQ Group with its ZENIQ blockchain technology guarantees total transparency and will offer huge potential to individuals and companies. Our company started as an idea in Area 2071, the innovation hub under the Dubai Future Foundation."
"Up until now only 3 percent of all potential users are familiar with and have access to blockchain technology. We are targeting the remaining 97 percent and want to transform the blockchain ecosystem, said Erwin Dokter, CEO of ZENIQ Corporation.
The blockchain tokenization industry is estimated to be US $24 trillion by 2027, according to World Economic Forum, and ZENIQ is playing a key role in its evolution. Over the past two years, ZENIQ has grown at a fast pace and has launched innovative blockchain technology products that make a difference to the community.