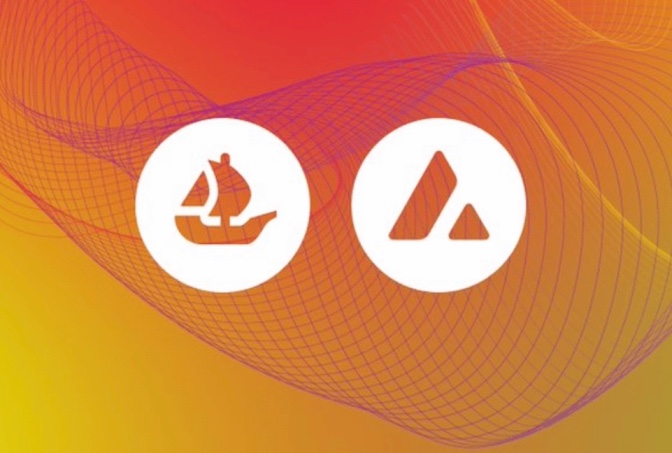 OpenSea, the digital marketplace for crypto and non-fungible tokens (NFTs), has once again expanded its service offering to include digital assets built on Avalanche, a decentralized blockchain.
In an October 12 blog post, the NFT marketplace confirmed its service expansion to include Avalanche-powered digital assets. This partnership comes a few days after Opensea announced support for Ethereum scaling solution Arbitrum and Optimism.
OpenSea Adds Support for Avalanche NFTs
Avalanche is a decentralized open-source proof of stake network with the native token AVAX and three blockchains, including the C-Chain. The C-Chain is optimized for Ethereum compatibility and smart contracts to support digital assets. NFT can exist on either Avalanche's C-Chain or X-Chain.
Under the new partnership, OpenSea anticipates working with platforms like NFTrade and Avalanche-focused marketplaces like Joepegs and Kalao to enable users to settle NFT transactions seamlessly with low transaction fees. While commenting about the new partnership, John Wu, the president of Ava Labs, remarked:
"We listen to our community, and part of our community really wanted to have OpenSea. We have a budding and vibrant creator and NFT community, and they wanted OpenSea as a choice."
"They want to know there is a chain that's scalable, because Web 2.0 is so much bigger than Web3.0. They want a chain that can handle massive amounts of activity from its users. These brands are far more comfortable working with OpenSea."
OpenSea's NFT Market Health
It's worth noting that this year has been tough for OpenSea. The NFT marketplace has plunged more than 95% in the past 90 days. Moreover, the marketplace declined for its fifth consecutive month in September, recording just $350 million.
However, in the past few weeks, the marketplace has embraced several innovations, including allowing users to bulk list and purchase non-fungible tokens (NFTs). OpenSea believes these innovations, combined with the recent Avalanche integrations, might push its market health to a positive trend.
Meanwhile, OpenSea supports NFTs from seven decentralized blockchains, including Ethereum, Polygon, Klaytn, Solana, Optimism, Arbitrum, and Avalanche.