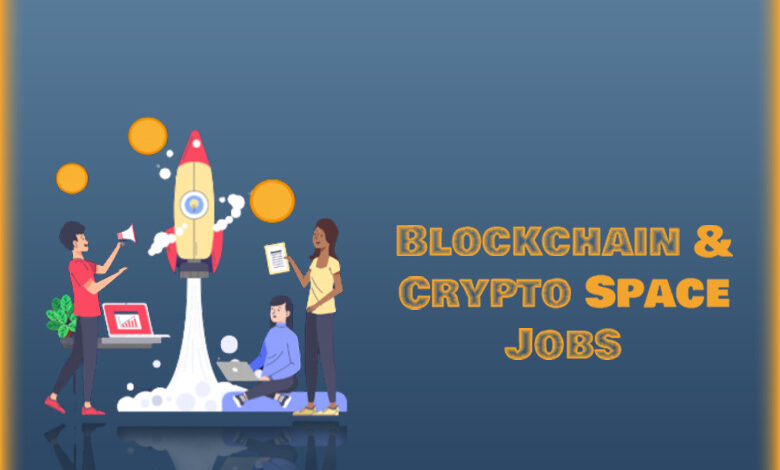 The cryptocurrency market has dramatically grown in the last decade. Today, there are more than 10,000 cryptocurrencies that enthusiasts can choose to invest and transact in, which has led to an increase in employment opportunities for those who have passion and technical knowledge in blockchain and crypto. 
Besides that, more students are enrolling in programmes that cover the blockchain space, which is planting the seed in people's minds and pushing the world to accept and adopt this technology.
Remote Blockchain jobs are on the rise
Blockchain jobs are becoming popular by the day, as the blockchain technology becomes widely adopted. And just like many other types of jobs, jobs in this space are increasingly going remote, an option that is highly preferred by the young generation.
In fact, 36% of blockchain-related advertised positions are remote-based, which is double the projected global average of 16% across employment sectors, according to research by BanklessTimes.com.
Jonathan Merry, CEO of Bankless Times, said, "The decentralized nature of Blockchain itself makes it well-suited for remote work, as there is no need for employees to be in the same physical location in order to collaborate on projects. As the Blockchain industry continues to grow, it is likely that the trend towards remote work will continue."
It is important to mention that software development is one of the most in-demand jobs in the crypto industry. According to Bankless Times, in June 2021, 44% of blockchain software development jobs were remote, compared to 31% of other jobs.
The reason behind that is because the industry is growing, and so is the need for talented developers who can take this technology to another level.
With so many projects and startups competing, developers specializing in cryptocurrency can ask for high salaries, for in in addition to their coding skills, they also need to be up-to-date on the latest trends and understand how the technology works. As the industry matures, we expect to see even more demand for software developers with cryptocurrency expertise.
This being said, the reasons are obvious. The blockchain and crypto space is still relatively new, meaning that job descriptions and duties are still flexible and not really precise.
This makes it easier for employees to work from anywhere in the world. Also, the global nature of Blockchain means that companies often have employees in different time zones, which makes remote work even more convenient.
Blockchain businesses must continue to prioritize remote operations to stay competitive. It is the ideal method for enlarging the talent pool and gaining access to exceptional and qualified people abroad.
Pool of talents
Allowing employees to work remotely gives companies the chance to scout and hire various talents from all around the world, as well as to create a more diverse and inclusive work environment.
When it comes to the blockchain and crypto space, many companies believe that all individuals can take part in the development and expansion of this technology, regardless of location, nation, or level of financial means.
When asked about the matter, Shreenath Iyer, Chief Marketing Officer at DIFX, commented, "The positive part about the blockchain and crypto revolution is the way they are helping define a new work culture. One that is more efficient, focused, independent and creative. One that is not your usual suit and tie 9-5 gig, but rather a culture where innovation and development are given center stage".
Also, Ghiwa Assad, a blockchain and crypto editor, said, "Following the COVID pandemic, there is no doubt that the way business is done has changed completely. And after working in this field, I noticed that everything can be done remotely. It sure wasn't easy for me to take on this journey while expanding my knowledge remotely, however, here I am, enjoying every second of it."
She added, "The question is, do I prefer working from the office or remotely? There is no doubt that office and field work, especially in journalism, is better than working from home, but I have noticed that I was influenced by the decentralization of this field, which is the biggest and most important feature of it. This has changed my perspective, and pushed me to always find an unlimited way to get the job done. Therefore, I enjoy my job in both cases, whether from the office or remotely. Nevertheless, working from home is my go-to now."
Layoffs vs. hiring
As previously mentioned, the crypto community has not had a unified response in dealing with the current bearish cycle; many blockchain and crypto companies have laid off an undeniable number of employees due to poor market conditions. However, several others have been taking advantage of the bear market to build highly effective and talented teams, in hopes of scaling once the market recovers.
Yes, the crypto winter has been truly turbulent, but cutting off on expenses by laying off staff is not the smartest tactic to adopt.
For instance, Binance is looking to hire more than 2,000 people across Europe, Asia, South America and the Middle East.
Binance CEO, Changpeng Zhao, said, "We will continue to grow our team as planned and see this moment in time as an opportunity to gain access to some of the industry's best talent."
According to CoinDesk, Kraken is also looking to add 500 staff members, ConsenSys is expanding its workforce with 125 open positions and Polygon has over 100 job opportunities.
Shreenath Iyer said, "To those outside the industry, news articles and headlines about the layoffs might be alarming, but they are sometimes an inevitable outcome of highly volatile markets. Nevertheless, bear markets are a time for building. For us at DIFX, it is all about growth and expansion, as we are always on the lookout for talented and passionate people to help define and grow the blockchain & WEB3 space".
Crypto salaries are surging
Diving into the blockchain and crypto world can be really exciting, for the potential is unlimited, and only the sky is the limit. Moreover, monthly remunerations are considerably high, as they have grown from $92,000 to $125,115. This is because the number of experts in this industry is very limited, which pushes employers to attract them by remunerating them with high salaries and coming up with better deals and contracts.
According to CryptoMonday, which has been analyzing the cities offering the best employment opportunities within the crypto industry, it concluded that New York is the best for anyone seeking employment in the industry.
Knowing that the city is home to 327 businesses focusing on crypto, non-fungible tokens (NFTs), and the metaverse, it had 4,279 crypto-related jobs as of May 2022, where the average pay per job is $125,115.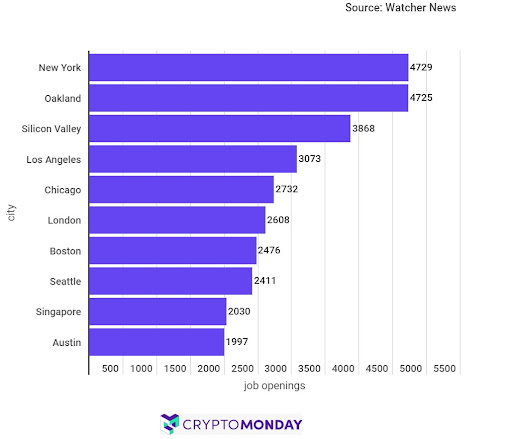 As you can see, only 2 cities outside the US made it to the list. However, one cannot deny that the UAE, Dubai and Abu Dhabi in specific, are two cities that are worth mentioning, for a huge part of the blockchain and crypto space is being molded there.
With its regulatory spirit and institutions, the UAE is a very promising space that has been and will continue attracting the biggest blockchain companies in the world.
Blockchain goes to college
While many of the most in-demand jobs in cryptocurrency don't necessarily require a formal education, many global universities have started offering opportunities to dig deeper into this field. In fact, crypto news outlet CoinDesk recently published a ranking of the top 50 universities for blockchain.
The National University of Singapore ranked first, with Royal Melbourne Institute of Technology in second, University of California Berkeley in third, University of Zurich in fourth and MIT in fifth.
Out of the top 50 schools, 13 are located in the U.S., including Arizona State University (30th) and New York University (41st).
With this in mind, such majors are not that easy, for there are many challenges that come in the way. To start with, more and more students are enrolling in blockchain programmes, yet only a few would like to pursue it as a career.
Most students are simply curious about the new tech and how it could, potentially, give them an edge in their future careers.
"Once something new comes out, I just want to learn it, just to satisfy my curiosity," said Hare Muthusamy, a grad student studying software development, who moved from India to enroll at UC Boulder.
Olta Andoni, a professor at Chicago-Kent law school, who teaches a course on blockchain, said that most of her students do not take the class with that intent, and she stressed this several times during her call with CoinDesk: "If you are a potential law school applicant, do not go in with the intent to become a crypto-attorney."
However, others take it more seriously, just like Muthusamy, who didn't want to just learn about the concepts of blockchain. In fact, he ended up building a decentralized system that allows researchers to anonymously upload papers for peer review, and then a network of academic reviewers – across multiple universities – could anonymously review the study, while having all the material live on the blockchain.
Second of all, lack of information can be a problem, as besides Satoshi Nakamoto's white paper, only a few source materials that everyone agrees on, exist.
"There's been a lot of struggle in finding the right source materials," said Angela Walch, a professor of Law at St. Mary's, who has been teaching blockchain since 2013.
"Sometimes I've been very surprised to find what instructors are using. For example, Walch has misgivings about the use of 2016's "Blockchain Revolution" by Don Tapscott and Alex Tapscott as a primary text. That's been very worrying to me, as I view that book as a hype", she added.
Also, not all students have the same blockchain knowledge, for the level of knowledge is very diverse among them, and this could be a problem.
When you teach a course like "maritime law," the odds are good that every student begins with a similar level of ignorance. But, not with crypto.
Some build their own Ethereum mining servers and others think Bitcoin wallets come in leather", Adoni added.
Graphic designer, Ghina Kassir, said, "Prior to joining UNLOCK Blockchain, I had heard the word 'Blockchain', but I had never anticipated that I would actually learn about it. The interaction with other creative industry experts and the creation of content keeps me inspired to learn more every day. Close examination reveals that this sector is the future and won't disappear anytime soon. I don't think this field is getting enough consideration. Whether for programming, analytics, design, etc., our educational institutions need to incorporate it more. If designing for Meta or major trading exchanges had been an option during my undergraduate years, I would have made it my top priority."
In a nutshell, blockchain jobs are now in demand and will be even more in the next few years. The blockchain and crypto space is here to stay, and with blockchain programmes being taught in college, more students are expected to major in the field, which will help in the expansion and adoption of this technology. The world, especially governments, still has a long way to go, but there is no doubt that we are getting there, one block at a time.