American trademark and patent attorney Michael Kondoudis disclosed on Thursday that football powerhouses Real Madrid and Barcelona had filed a joint trademark application seeking to cover some of their offerings.
Per the Kondoudis's disclosure on Twitter, the popular football clubs are seeking trademark protections on some of their virtual products as they plan to explore the metaverse world.
The trademark petition was filed at the USPTO on 5 August with the serial number 97536450, showing that Real Madrid and Barcelona want to protect their crypto-related applications, including virtual reality software used to manage cryptocurrency transactions on the blockchain technology.
The Spanish La Liga rivals also seek to cover their digital clothing, footwear, headwear, and sportswear.
The trademark protection will also cut across its e-commerce and e-payment technology, which allows users to conduct electronic business transactions using a computer network.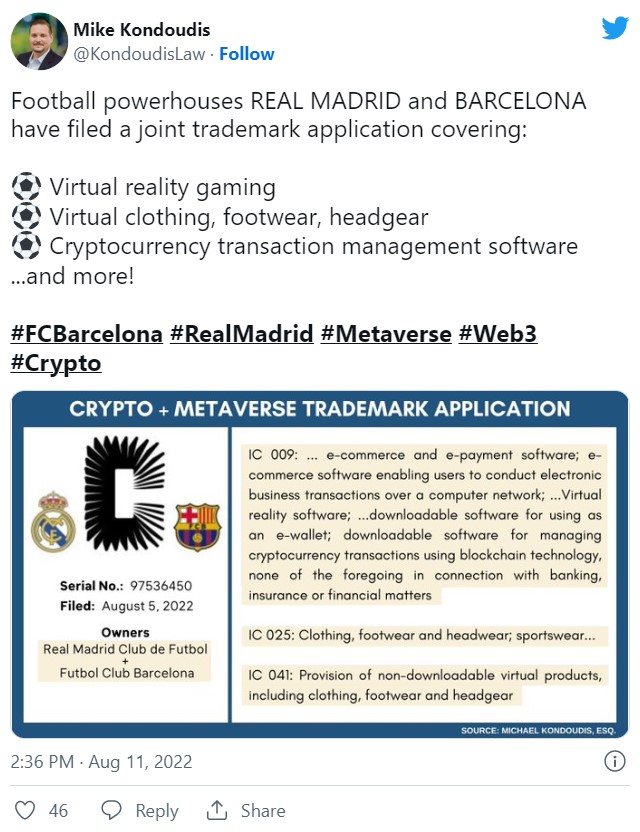 Earlier this year, Real Madrid entered the metaverse space to offer a series of products to its global audience, including visits to the famous Santiago Bernabeu stadium, according to the Crypto Basic.
The Spanish football club has launched its first project in the digital universe dubbed Madrid's Virtual World. The project provides its fans around the world access to seamlessly interact with all the activities and elements of the club through the metaverse.
Both Real Madrid and Barcelona have also launched their Fan tokens.