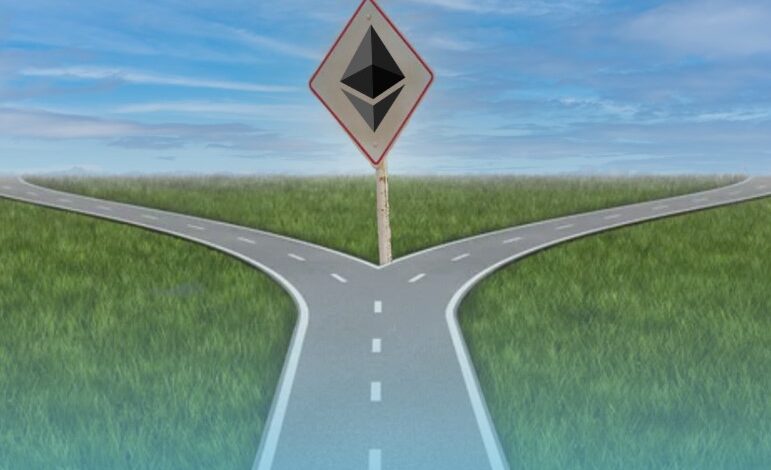 Most members of the Ethereum community are counting down the days until the network's Merge, and among those most excited, unsurprisingly, is Ethereum co-creator Vitalik Buterin.
However, while The Merge has brought excitement to the Ethereum community, it has also attracted criticism and speculation. Some are pushing against it by advertising for a potential continued ETH PoW chain post-upgrade.
The potential upcoming Ethereum proof-of-work fork is unlikely to have substantial long-term adoption, according to Ethereum co-founder Vitalik Buterin.
The idea of a fork gained traction over the past two weeks after popular Chinese crypto miner Chandler Guo, who was involved in the 2016 fork that resulted in Ethereum and Ethereum Classic, said he would fork the Ethereum blockchain, dubbing the new network "ETH POW." The idea is that when the blockchain undergoes "the merge" and transitions to a proof-of-stake network, these miners would create a fork of the network that ignores the update and remains focused on mining.
In fact, last week, Guo tweeted about the advent of a PoW ETH, despite the already existing ETC (Ethereum Classic), which Guo was part of. He proclaimed: "I forked Ethereum once, I will fork it again!"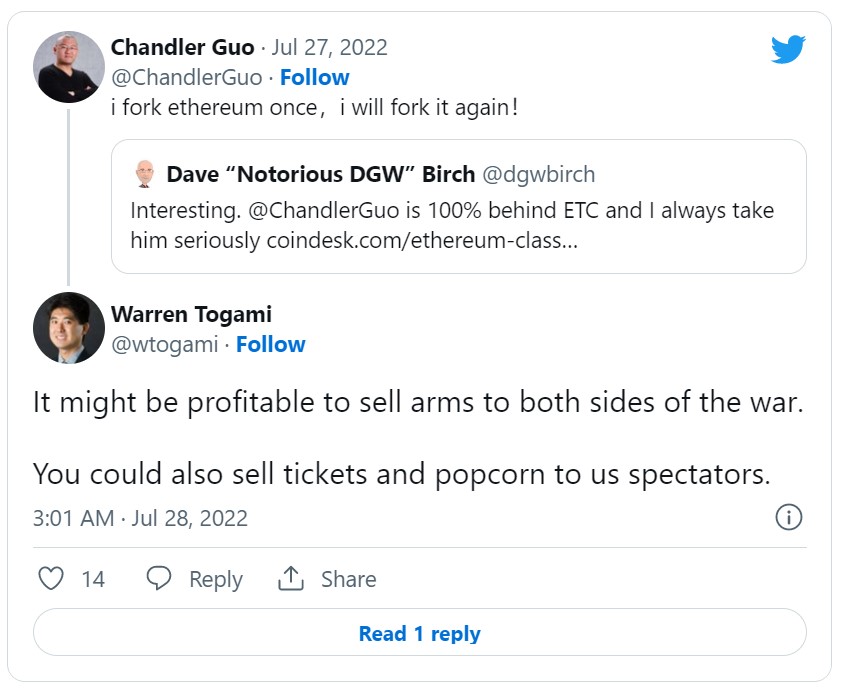 Appearing at ETHSeoul on Friday evening, Buterin answered questions from journalists during a Q&A session, during which he addressed the potential impact of this kind of a hard fork on the Ethereum network.
In response to a question about this plan, Buterin said he doesn't see an organic aspect to it and claimed it's just a "couple of outsiders that basically have exchanges, and mostly just want to make a quick buck."
"I'm not expecting it to have substantial, long-term adoption, but, that doesn't mean we're not going to see "a couple of splats" as Ethereum shifts", he added.
"If a proof-of-work fork becomes large, then there's definitely a lot of applications that will have to choose one way or the other," Buterin said, adding that if ETH PoW gains substantial traction, he expects a lot of market confusion and problems.
Even if done, production of Ether (ETH) proper wouldn't continue on their forked proof-of-work chain post-merge. Miners would have to create a new coin (and a new coin name) for whatever they mine and hope it gets adopted by the masses, while Ether itself will remain exclusive to Ethereum on its new proof-of-stake chain. Same goes for applications and projects, Buterin said. "I hope that whatever happens, doesn't lead to people losing money", he added.
"From everything I've seen," he said, "they're all going to favor the proof-of-stake side."
Why the fork?
Mostly and unsurprisingly, the interest now in ETH PoW has been driven by Ethereum miners because they have something to lose after Ethereum shifts to proof-of-stake: their income.
Currently, with proof-of-work, Ethereum miners validate transactions on the network—and in turn, earn token rewards—by using very expensive equipment and computer power; some miners have invested tens of thousands of dollars to mine Ether and make a living. In fact, individuals who have profited from mining Ethereum, either by sending moderate amounts of specialized computer power to mining pools, or by overseeing massive farms of mining hardware independently, now find themselves in possession of a resource they don't need (very expensive mining hardware, useless for staking), and lacking a resource they don't have (human capital). 
With proof-of-stake, Ethereum will rely on a trusted network of validators, effectively eliminating its mining for good. For that reason, miners might want to try and continue Ethereum's proof-of-work chain, no matter how unlikely or risky it is to attempt, in order to retain their investment.
Any good alternative for miners? Probably not.
If individual miners are incapable of, or unwilling to, create their own staking pool businesses, they have a few other options. They could sell their mining equipment, and participate in a larger company's staking pool. Or they could keep their hardware—so long as it consisted of more generalized graphics processing units (GPUs) and not specialized, now certainly-useless application-specific integrated circuits (ASICs)—and use it to mine one of the select other types of cryptocurrencies compatible with their processors, according to Decrypt.
Neither situation is ideal—or close to it.
Contributing fractional amounts of ETH to a larger staking pool is likely to generate a much lower rate of return for individuals than mining has up to now. "The slope of the curves of the economics are significantly different", said Ethereum core developer Danno Ferrin. 
And as for the other compatible cryptocurrencies that miners could potentially mint with existing hardware, such as Ethereum Classic, Ravencoin, and Ergo, these coins, much less in demand than Ethereum, offer substantially lower profit margins. 
"It will be impossible for them to recover the costs of their equipment", said f2pool's Da Liang of Ethereum miners who have purchased costly mining hardware within the last two years. Mining GPU-compatible altcoins post-Merge will likely fail to cover that deficit. 
"I don't know how anyone who has rational business sense is going to be like, "Oh, yeah, I have millions of dollars of equipment, I'm gonna now just switch to Ravencoin, and we're gonna be fine now", said a source at a prominent mining pool who wished to remain anonymous.
In conclusion, as The Merge approaches, the whole space is getting ready for this upgrade. Nonetheless, the ETH fork is now in the picture, and all miners are impatiently waiting to see whether it will be a success or not, as this has already happened with Bitcoin cash and Bitcoin SV. In fact, one cannot deny that the mining business is still affecting the space, and it won't stop anytime soon.