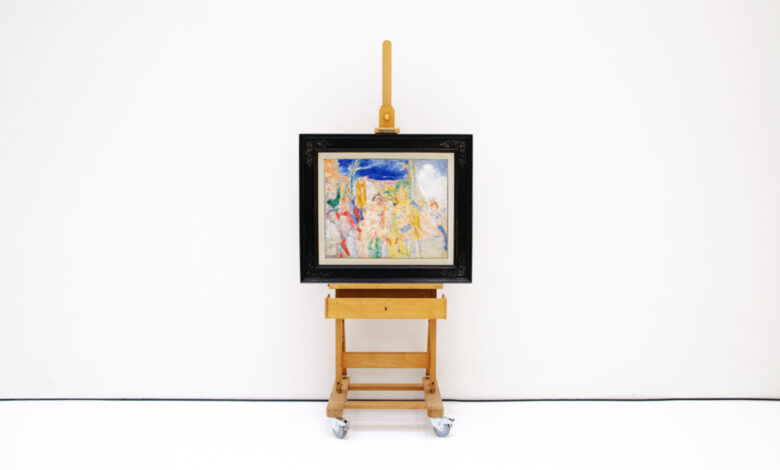 The Royal Museum of Fine Arts Antwerp (KMSKA) is the first European museum to tokenize a masterpiece to democratize art investment. In partnership with Rubey and Tokeny, KMSKA has leveraged the legal, marketing and technological expertise of both teams to launch its compliant ERC-3643 based security token offering on the Polygon Blockchain, allowing fractional ownership of James Ensor (1860 – 1949)'s painting Carnaval de Binche, with investments starting at €150.
Traditionally, for investors, the art industry has been dominated by wealthy individuals with access to or the ability to purchase museum-quality art pieces. For museums, private investors have been the primary source of capital sought to help expand their collections. KMSKA aims to revolutionize the status quo by making masterpieces available to the masses.
By working with Rubey to tokenize the masterpiece on the Blockchain, KMSKA lowers the investment barrier to entry, enabling everyone to become a "co-owner" of the masterpiece, while bringing together art lovers to become a new source of capital. The money raised in the Art Security Token Offering allows Carnaval de Binche to be purchased and ensures that the museum receives the piece on long-term loan. This means everyone finally gets to admire Ensor's Carnaval de Binche – a painting that has spent years in private collections.
KMSKA President Luk Lemmens said: "KMSKA will be more than a place that displays art. We are fully committed to engaging our visitors and token holders in our collection and operation. It is very special that anyone can become a "co-owner" of Carnaval de Binche by James Ensor. KMSKA already had the largest Ensor collection in the world. The addition of Carnaval de Binche puts our museum on the international map as an Ensor centre of excellence even more".
KMSKA's Art Security Tokens, unlike Non-Fungible Tokens (NFTs), are backed by debt instruments, which legally fall under securities regulation and must comply with the law throughout their life cycle. To ensure compliance, the Rubey platform has chosen to integrate Tokeny's tokenization APIs for issuing and managing security tokens due to its unique onchain compliance approach through permissioned ERC-3643 tokens and digital identity system ONCHAINID. As a result, token transfers can only occur if eligibility conditions are met, moreover, ownership of tokens is guaranteed by holders' ONCHAINIDs (e.g. token holders can recover their tokens if they lose their wallets).
In turn, Luc Falempin, CEO of Tokeny, said: "There is confusion in the market about NFT and security tokens, and we are pleased to see that KMSKA, an innovative traditional museum, fully understands the differences between these two types of digital assets. We share the same vision as our partners KMSKA and Rubey that security tokens will have a real impact on the art industry by allowing smaller investors to invest and engage in artworks that already have existing value. We are excited to provide a compliance infrastructure and user-friendly interfaces for them to reach these audiences. A new chapter in art investment has begun, and this is just the beginning, we can't wait to see what happens next".
The project uses Polygon network, the Ethereum-scaling solution, to achieve cost-effective operations while preparing for cheap, fast and compliant peer-to-peer transfers post-issuance for all investors – both initial private investors and investors in public sales. The team plans to provide a secondary market solution Billboard on the Rubey platform starting in 2023 to improve the liquidity of the assets.