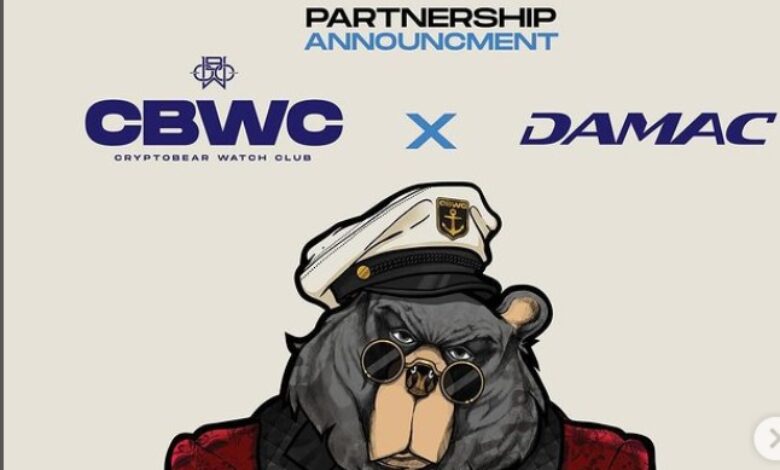 Crypto Bear Watch club announced on twitter that it has teamed up with UAE DAMAC Properties to offer its NFT holders a various number of rewards, perks and merchandise.
The rewards include 50 percent off stays at UAE Paramount Hotel and DAMAC Maison residences, 25 percent off on exclusive Food and Beverage outlets, as well as luxury spa treatments and 20 percent off gold merchandise.
In addition Crypto Bear Watch Club NFT holders will also be benefiting from unique merchandise from the Roberto Cavalli Brand owned by DAMAC. The Brand had announced collaboration with UAE DAMAC properties. As per Crypto Bears post, exciting examples of these merchandise will be shown to CBWC NFT holders in early April 2022.

Crypto Bears is also holding its UAE meet up over three days in May 2022 starting from May 12th in Dubai UAE.
Prior to this Ali Sajwani, Chief Operating Officer of DAMAC Group, revealed his intention to launch DAMAC Metaverse project during the second AMA session for NFTyRacer with CryptoBear Watch Club which was posted on twitter on February 15th 2022. In the session he spoke about his support of Crypto Bear Watch Club as well as the upcoming DAMAC Metaverse project. He stated, "We are doing a lot at DAMAC, and when it comes to the metaverse, I think DAMAC will be entering the metaverse in the next month to 45 days. We are excited." He noted that this came about after he personally invested in Sandbox metaverse by purchasing a virtual plot and decided that it "was the time to shift because the world is moving really quickly in that direction."
On April 1st 2022, DAMAC will reveal its collaboration with Roberto Cavalli and the merchandise that will be available to Crypto Bear Watch Club holders, whether these merchandise will be in the form of NFTs will have to be seen.