Companies
MENA News
NFT
Platform news
UAE Mcontent launches with cinema metaverse experience
UAE Mcontent metaverse crowdfunding platform built on blockchain already worth 100 million USD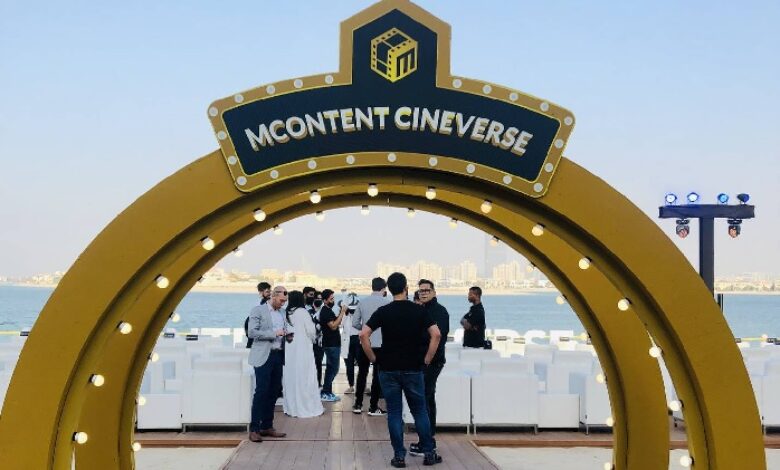 UAE Mcontent, the world's first Blockchain NFT digital content market place that aims to build a collaborative content ecosystem with the core purpose of seed funding, incubating and curating film makers and content producers around the World, recently launched their first cinema metaverse experience at Dubai Palm Jumeirah's West Crescent in UAE.
The Mcontent cineverse event beamed 200 film buffs directly into a virtual cinema from the W Dubai according to an article in the UAE National NewsPaper. As per the article, " The pop-up movie premiere was hosted to celebrate the launch of MContent, a metaverse crowdfunding platform designed to connect content creators with investors. Eight months after inception, it already claims to be worth more than $100 million."
Supercar Blondie, one of MContent's celebrity partners, talks animatedly with organizers while YouTube star Mo Vlogs gazes into the sunset, no doubt dreaming of futuristic videos to come.
Masoom, admits that regulation of the metaverse concerns him. He tells the National, "When something disruptive happens, there is always a good side and a bad side to it, which is why I absolutely agree that regulation is important. In my opinion, that's something that needs to be collaborated on by institutions and governments of the world. It's not something that can be done in isolation by one entity."
As per Mcontent press release, Umair Masoom, Founder & CEO of MContent stated, "The immersive cinema experience – designed in collaboration with PwC and showcased to our guests today has global scalability & mass adoption capability. By bringing the Cineverse to a global audience, MContent wants to increase funding & screening opportunities for thousands of independent film makers globally. As part of the decentralised ecosystem, MContent is launching the first-of-its-kind, fully monetised content consumption platform, aiming to drive sustainable earnings for content creators and viewers. I would like to thank our Co-Production Partners "Insight TV" & "Villain Studios" from Netherlands, our technical support teams in "PwC Middle East and PwC UK" and our investors including "Gargash Group" and "Daman Investments" for helping us bring the Cineverse to life today".
Reza Essop, PwC Middle East's Emerging Technology Leader added "This is a brilliant example of the region's movement towards digital transformation and is very much in line with major wider initiatives such as Dubai Vision 2030. MContent has defined a practical application of emerging technology with the convergence of blockchain, NFT and extended reality (XR). We are incredibly proud to have facilitated this effort as well as enabled this vision from concept to reality and to a sustainable commercialised economy that can benefit many as well as lead the way for other out-of-the-box efforts".
Also present at the occasion was Dr. Lamees Hamdan, leading Emirati entrepreneur and global opinion leader who recently accepted the position of Chairperson at MContent. On the vision of MContent Dr Lamees comments, "I love the disruptive nature of MContent, the ability of helping peoples dream become a reality. Where before there were barriers, and it was almost impossible for a small creator with big dreams to access production, studios and funding, at Mcontent we are giving the control back to the creators, where all of us are funding our own destiny and that is power. What we are seeing today is a manifestation of this new reality we are creating together".
The native token of MContent is currently trading at a Market Cap of over $100 million on more than six centralised and decentralised exchanges & the platform plans to fund 100 global projects by the end of 2022.
Mcontent already raised around 5 million USD from UAE investors including Gargash Group and PWC.
This article was updated at 8:25 GMT+3 on February 25th 2022.