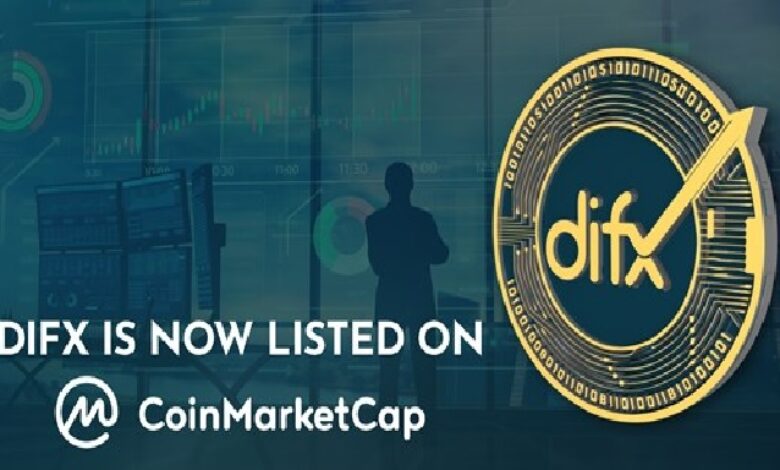 The DIFX Digital Financial Exchange's crypto exchange utility token DIFX soars on CoinMarketCap after it was listed recently. DIFX token has achieved the spot of the number 1 Gainer with an impressive surge of 600%. Amidst the seemingly endless crypto projects.
DIFX stands out as a unique crypto exchange due to its innovative fully insured cross-asset ecosystem and its very own utility token also called DIFX. Although being a relatively new crypto token, DIFX has already created a storm in the crypto industry by being listed on Coin Market Cap, where it has earned the spot of the Top Gainer as of 27th January 2022.
Figure 2: CMC Gainers (Source: https://coinmarketcap.com/gainers-losers/)
The Digital Financial Exchange is a comprehensive ecosystem that leverages and innovates blockchain technology in multiple ways. An exchange with core competencies in creating blockchain applications, providing liquidity, custodian services and 24/7 multi-language support. Moreover, the central component of the exchange is its fully insured Cross-Asset trading platform that bridges the gap between traditional and crypto trading. Its unique ecosystem allows users to trade and invest across multiple asset classes that range from Forex, Indices, Metals, Crypto etc. all under one trading platform.
DIFX has created its very own custom MT5 platform to allow traders to trade with over 600 instruments like BTC & Gold, ETH & Crude oil, DogeCoin & Apple Stocks etc. To make things even better, DIFX has also launched a spot exchange available on the Web, iOS & Android, where the world's top cryptos are available to trade and stake alongside its very own utility token called DIFX.
With the crypto industry growing rapidly, institutional interest in cryptocurrency is also slowly rising. Industry leaders like Fireblocks, a partner of DIFX, have already established numerous monetary incentives for additional institutional groups to enter the sector. For a growing community of institutional crypto investors,