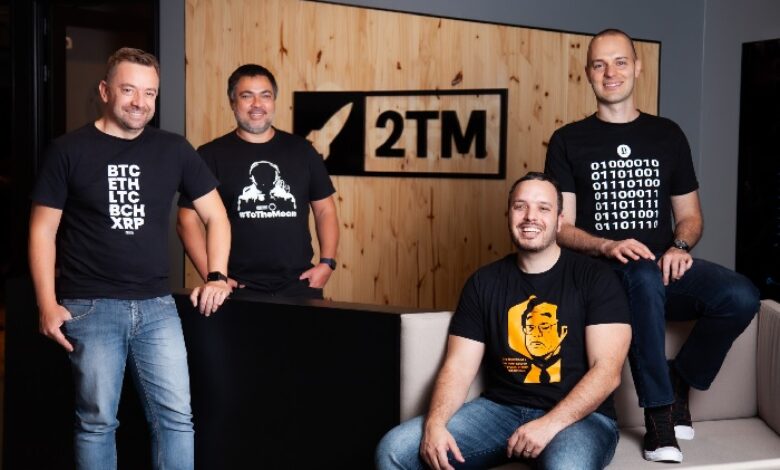 The Brazilian unicorn 2TM Group, holding company for MercadoBitcoin.com, Latin America's largest crypto exchange, raised an additional $50.3 million in a second closing of its Series B round. U.S.-based  10T and Tribe Capital, crypto & blockchain expert funds, Brazilian companies Traders Club, Pipo Capital and Endeavor also joined as new investors. This is 10T's first investment in a Latin American company. 
The current round had its first closing in July, when SoftBank invested US$200 million. This additional funding further solidifies 2TM's position among other crypto-native unicorns worldwide.
According to Roberto, Mercado Bitcoin registered a trading volume of about 40 billion reais (app. $7 billion USD) between January and October, twice the trading volume recorded from 2013, when it was founded, through December 2020. "On top of that, we have added more than 400,000 new clients since we launched the current round and plan to have more than 100 assets listed by year end."   
Another growth driver for 2TM is investments within the blockchain ecosystem. Building a bridge between the financial market, 2TM has invested in SL Tools, a stock lending marketplace, and CERC, a credit receivable register. Ongoing projects include credit receivables tokens in a partnership with Itaú Unibanco, the first initiative of this kind by one of Braz's biggest banks, as well as a strategic partnership with Comerc Energia to sell renewable energy tokens. "Both companies have trusted and understood the transformational potential of the market infrastructure we are building: it's digital, it's accessible, it's available 24/7, with immediate liquidity", says 2TM's CEO.
The firm has also invested in startups in the crypto-NFT ecosystem, such as Fingerprints DAO, Tropix, and Block4. According to DappRadar, NFT's sales reached $10.7 billion in the third quarter, an eight-fold growth from the previous three months.
"Our international expansion and the increasing offer of new products based on the technology that gave life to bitcoin are just beginning. Tribe and 10T will bring their expertise in the blockchain segment, which is even more relevant than the amount invested", says Dagnoni.
New investor Traders Club joins this round, further expanding the strategic partnership between the companies towards the construction of a large crypto community in Brazil. Pipo Capital also makes its debut in a digital assets company, while Endeavor brings the credibility and the network of Brazil's first innovation hub.
Roberto emphasizes all these achievements are only possible after a series of initiatives focused on institutionalizing the industry and constructive work being developed with Brazil's Central Bank, securities regulator CVM and the financial crime watchdog COAF. "Since the company was founded in 2013, we have worked to formalize the Brazilian market. MercadoBitcoin.com was the first crypto exchange to issue an invoice in the country and it was also the first one to meet the tax requirements set by the Brazilian Federal Revenue Service. Many of our policies and projects have contributed in a fundamental way to the advances achieved so far", he guarantees.
Along with Softbank, the new investors join GP Investments, who lead the Company's series A in January 2020; Parallax Ventures; HS Investimentos, Fundo Évora, Genial, Gear Ventures and Mercado Livre corporate venture capital venture arm. J.P.Morgan and DealMaker acted as advisors to 2TM on the transaction.