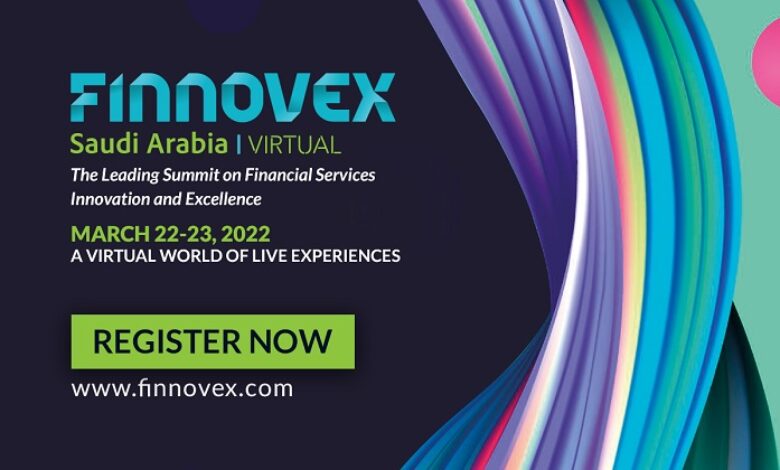 Exibex is organizing the Finnovex virtual experience in KSA in the first quarter of 2022 for fintech innovation. The event is in alignment with Saudi Vision 2030.
Finnovex is the premiere edition of Leading Summit on Financial Services Innovation and Excellence would be bringing together the finest Banking and Financial Services Industry minds. Among the presence of 15+ industry futurists, who would share solid case studies for you to learn from and exemplify transform mindsets from "Respond" to "Restart" from March 22-23, 2022.
The summit themed "Unleashing the Power of Kingdom Fintech Landscape" will be highlighting all that pertains to harnessing technology in increasing efficiency as it relates to fulfilling customer expectations, all while adapting to the following: The reality of technological advancement, changing landscape of fintech products, competition in financial services, government policies and regulations and the role of stakeholders including incubators, accelerators and millennial workforce.
Insights would span across revolutionary topics which include Saudi Vision 2030: The next ten years of the dynamic banking environment, into the wide-open (banking) world, agility, security and risk for business resilience, the future of AI and automation in financial services, open innovation and strategic partnerships, retail banking and omnichannel services, the next evolution of payments, embedded and invisible finance — the new era and more.
Expert speakers are respective representatives of the following companies: Arab National Bank, BBVA USA (Banco Bilbao Vizcaya Argentaria), Saudi Financial Technology Company, Saudi Arabia, U.S Bank, Gulf International Bank, Saudi Arabia, United Cooperative Assurance, Saudi Arabia, Bank AlBilad, Saudi Arabia, SABB, Saudi Arabia, International Group of Artificial Intelligence, Bahrain, Social Development Bank(SDB), Saudi Arabia, Riyad Bank, Saudi Arabia, Saudi Credit Bureau – SIMAH, Banque Saudi Fransi, Banking innovation Expert, Saudi Arabia, National Financial Services Company, Saudi Arabia, among others.
The Finnovex Global series, organized by Exibex, examines the future of financial services and how disruptive innovations are reshaping the way they are structured, provisioned and consumed. The Finnovex series of Summits highlights thought leadership on cutting-edge issues with long-term implications to the industry and lays the foundation for multistakeholder dialogues that explore the potential of these innovations to transform the financial ecosystem, as well as the risks and opportunities that could emerge from shifts in the way financial services are designed, delivered and used in the future.
For more information, visit the website.