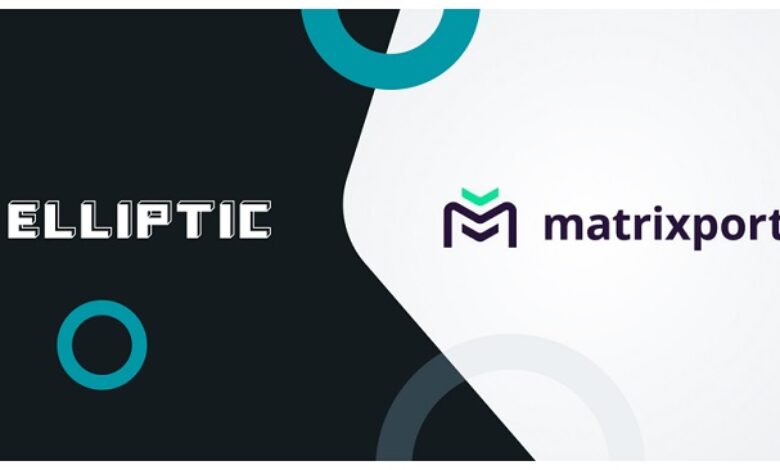 Matrix, crypto exchange and virtual assets trading platform, has partnered with Elliptic, the leading provider of virtual asset risk management and blockchain analytics solutions, to protect traders on its platform as the industry expands. Through the partnership, Matrix brings Elliptic's reliable analytics solutions to protect all traders on its platform with its anti-money laundering (AML) compliance and risk-monitoring operations. 
Matrix crypto exchange is integrating Elliptic Navigator transaction monitoring and Elliptic Lens wallet screening into its compliance workflow to streamline know-your-customer (KYC) onboarding and transaction monitoring processes. The multilateral trading facility and custodian uses live data feeds from Elliptic to trace the source and destination of funds. By doing so, Matrix ensures its operational controls initiate their stringent risk rules to quickly detect suspicious activity for further investigating and reporting.
With more than 150 clients across 30 countries, Elliptic provides comprehensive blockchain analysis and works with the world's largest virtual asset exchanges and financial institutions. Two thirds of all trades go through exchanges that use Elliptic's blockchain analytics solutions.
Matrix launched its operations and received a Financial Services Permission (FSP) from the Financial Services Regulatory Authority (FSRA) at ADGM in April 2020, which licensed it to serve retail customers, trading firms, and institutions across the Middle East, Asia, and Europe. 
Vasja Zupan, President of Matrix, comments on the partnership; "Matrix is building a new regulated Virtual Assets trading platform in the UAE region, and we are sparing no efforts in our mission to provide a trusted, secure, and reliable venue for trading virtual assets. From the outset, we knew we needed the right partner to underpin our operation with the most robust monitoring technology. Elliptic is the clear choice given its reputation to provide reliable, accurate, and comprehensive blockchain analysis that can scale as market complexity and volumes grow." 
"We are committed to supporting businesses through deep analysis and insights across a broad range of blockchain analytics solutions that enable the safe and transparent use of cryptoassets. We are excited to work with Matrix, a truly compliance-first trading platform that shares our mission."