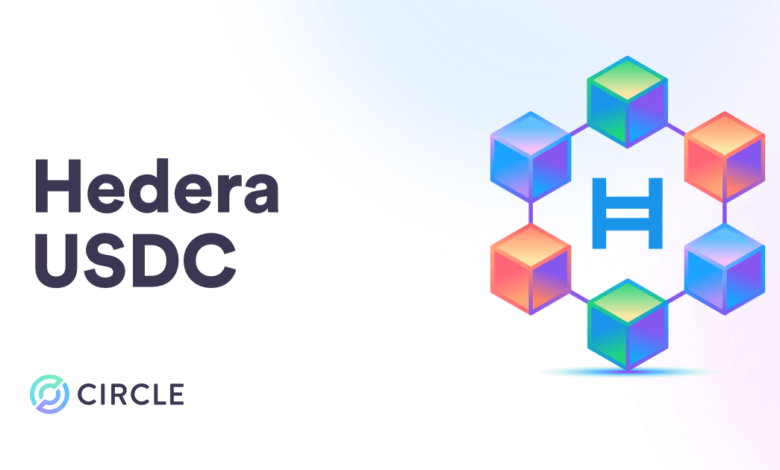 Circle, a global financial technology firm that provides payments and financial infrastructure for internet businesses, will support USD Coin USDC on the Hedera Blockchain network, one of the  most used, sustainable, enterprise-grade public networks for the decentralized economy.
With more than $30B USDC in circulation as of October 2021, USDC is the world's fastest-growing dollar digital currency. USDC on Hedera is now available to use within the Circle Account, Circle's global financial account for digital currency where customers can deposit, withdraw and send USDC on the Hedera network and use Hedera for USDC payment and settlement transactions. Circle's entire suite of developer APIs have also been updated to support USDC on Hedera.
This developer support aligns with the primary focus of the HBAR Foundation, newly-formed to provide entrepreneurs with the funding and ecosystem resources needed to build and deploy new applications on the Hedera network. As the first stablecoin to launch on the Hedera network, the USDC integration ties into the Foundation's focus on DeFi, with $2.5 billion of funding in HBAR earmarked for ecosystem grants, a significant portion of which will be dedicated to DeFi development and onboarding.
"Support for USDC on the Hedera network means more people can take advantage of dollar digital currencies," said Jeremy Allaire, CEO and Co-founder of Circle. "With Hedera, enterprises and financial institutions can access deep liquidity across countries and platforms, making USDC on Hedera an optimal asset for cross-border transactions and trades of all kinds."
As a 3rd generation proof-of-stake public distributed ledger, Hedera offers 10,000 transactions per second, near real-time settlement, low fees and low bandwidth consumption. The Hedera public network is governed by global institutions and designed to be completely decentralized. Launched in 2018, the Hedera network has processed over 1.6 billion transactions generated by real-world applications and has over 410k accounts. Built around a core pillar of environmental sustainability, the Hedera network has achieved carbon neutrality and is committed to carbon negative network operations.
In addition to Hedera, Circle now supports USDC across the Ethereum, Algorand, Solana, Stellar and TRON blockchains, with more to come. This multichain support reinforces Circle's commitment to growing the internet economy and creating network effects that will establish USDC as the standard means of value transfer across the internet.