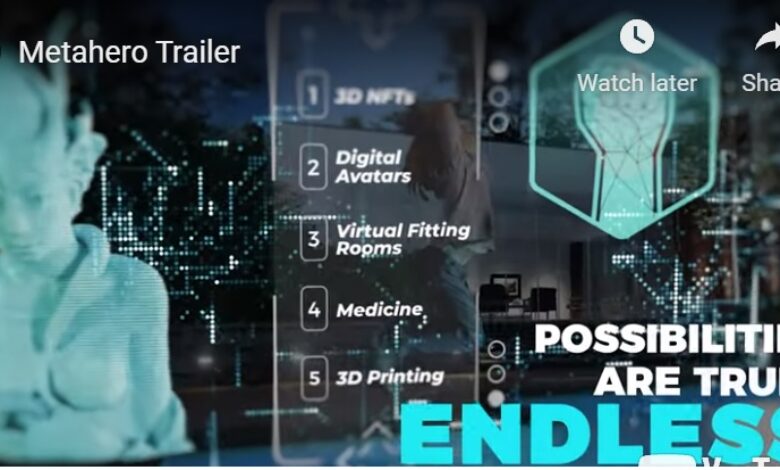 Metahero ($HERO) & WOLF Digital World (WDW) will be center stage at the Future Blockchain Summit in Dubai, showcasing Blockchain technologies using 3D printing and NFTs.
A 3D scanner, the likes of which the masses have never before seen, more importantly, have never had access to. The unveiling of the Metascanner will be the kickoff to Metahero & WDW's plans to strategically place 24 Metascanners around the world during 2022.
"We are all-in on our mission of crypto mass adoption, with the first milestone set at bringing 10 million new people into the space. We feel that the real-world application of WDW's 3D technology (Our partnership) will be the conduit to achieve our mission," states Rob Gryn, Founder & CEO of Metahero.
WDW combines 3D scanning and modeling technology with the NFT smart contracts to enable the creation of unique, ultra-HD meta avatars and meta-objects that can exist forever on the blockchain.
The next-gen technology creates Ultra-HD 3D scans that can be used across social media, games, VR platforms, as well as in art, fashion, online shopping, science, medicine, education, engineering, and the metaverse.
All of this is brought to fruition through WDW & Metahero's plan to build the largest database of people and real-world objects. Licensing of user's property will be a provided benefit, whereas developers will be able to, with permission, develop across any platforms using licensed scans – giving users of the ecosystem the opportunity to create revenue channels based on their property.
The Metaverse
The Metaverse is a mixture of augmented, virtual and enhanced reality online and in games. The shared virtual space is predicted to become the future of the Internet and how we go about daily lives and earn a living.
The metaverse-related markets, although still ill-defined, have been growing and are predicted to increase exponentially in coming years. The in-game items market alone is currently worth $50B, while the AR/VR markets are estimated at $30.7B and predicted to grow to $297B by 2024.
The Metaverse has also been adopting various blockchain technologies and building blockchain-based decentralized worlds like Decentraland and Axie infinity. The use of blockchain and cryptocurrencies allows games and virtual platforms to provide revenue to their makers, gamers, and builders through in-game economies, smart staking, trading, and holding metaverse assets.
Meta Adoption
Having seen tremendous growth (+7,500%) since their launch on the 6th of July, Metahero, and WDW are now set to deliver on the technology that backs Metahero's strong tokenomics and widely invested token backing.
With more than 80,000 individual investors and a current market cap of over $500 million, Metahero has already seen growth that many in the cryptocurrency space never achieve in their entirety, all accomplished in 3 short months.
The team has already delivered useful and enticing tools and products to make it easier to adopt cryptocurrencies and on-ramp into Metahero and DeFi (Decentralized Finance) – and will continue to develop partnerships that will help with their aim of crypto mass adoption. All products and services on the Metahero platforms will use the native HERO token.