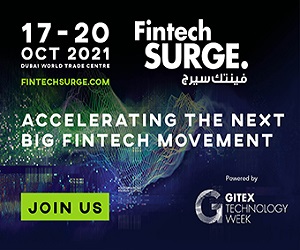 Dubai International Financial Centre (DIFC), the leading global financial centre in the Middle East, Africa and South Asia (MEASA) region, has entered into a strategic partnership with Dubai World Trade Centre (DWTC) for the first ever edition of Fintech Surge, a new exhibition, conference and meeting point for the Fintech and Financial Services communities, co-located with GITEX GLOBAL 2021.
Fintech Surge will be launched as part of GITEX GLOBAL from 17th-20th October at DWTC, uniting global Fintech leaders, startups and financial centres, and is set to be one of the Middle East and North Africa's most impactful events for the regional Fintech ecosystem. From digital banking to PayTech, InsurTech, Wealth and Asset Management and RegTech, Fintech Surge will spark dialogue that will shape the regional Fintech space in the coming years.
Fintech Surge comes at an opportune time in the regional industry's development; the number of FinTech and innovation companies operating out of DIFC reached more than 450, with over 140 new start-ups and FinTechs joining our DIFC Innovation Hub during the first half of 2021.
As well as being one of the world's most advanced financial centres and the leading financial hub for the Middle East, Africa and South Asia (MEASA) region, DIFC offers one of the region's most comprehensive Fintech and venture capital environments, including innovative accelerator programmes such as FinTech Hive, the first and largest financial technology accelerator in the MEASA region.
DIFC will deliver the welcome address for the Fintech Surge Digital Banking Summit on 19th October, as well as hosting four mentorship clinics during Fintech Surge. The clinics will give budding FinTech entrepreneurs essential insight that can drive their early-stage growth. DIFC will also be exhibiting during the event to showcase what DIFC can do for FinTech companies seeking to start or scale up in the MEASA region from Dubai.
Trixie LohMirmand, Executive Vice President, Events Management, Dubai World Trade Centre, said, "We are pleased to welcome DIFC as strategic partner for the inaugural edition of Fintech Surge. As the worlds of finance and technology combine to create innovative, disruptive solutions that redefine the status quo, Fintech Surge will drive meaningful thought leadership that can define the regional ecosystem for years to come. We look forward to working with DIFC to create a lasting impact in the FinTech space."