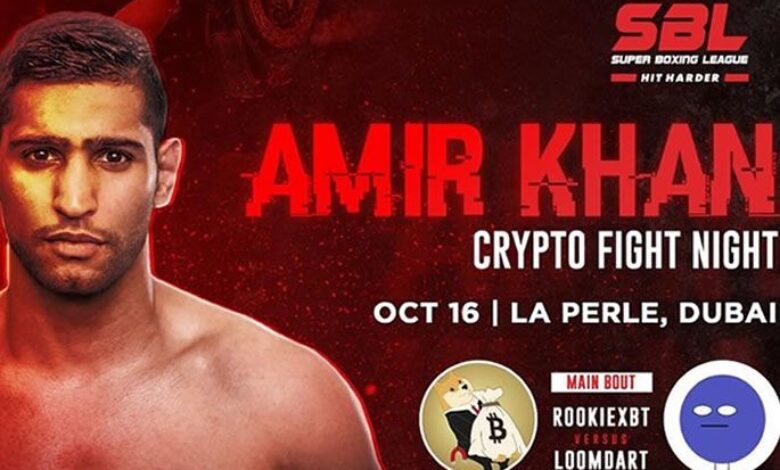 Amir Khan's Super Boxing League (SBL) is presenting 'Crypto Fight Night' on October 16, 2021, at La Perle in Dubai.
It is a unique event that is supported by the World Boxing Council (WBC) and Savy Capital. It will showcase Dubai as the future hub of blockchain while bringing the city's growing crypto and boxing communities together for showdowns. Some of the world's most prominent crypto traders will battle in the ring to support the Amir Khan Foundation.
SBL's CEO and co-founder Bill Dosanjh stated, "As the first-ever combat sports promoters to leap into the crypto space, SBL is eager to contribute to UAE's vision for an innovative future. "This association will help build the sport amongst the young business-minded generation whose forward-thinking mindset aligns with SBL's core values."Super Boxing League's 'Crypto Fight Night' is set to make history with the first-ever WBC crypto belt."
Amir Khan expressed his excitement about the event, stating that SBL is making history by becoming the first combat sports promotion to partner with the crypto community. He said: "By associating with crypto, we will further augment our endeavour to reach like-minded groups who believe in innovation and transformation."
In the main event, RookieXBT, one of the world's youngest crypto traders, will battle against world-renowned crypto investor Loomdart. It marks the first time that the crypto community will see the two top stars, who are typically viewed online only as avatars, live in action.
In the co-main event, New Zealand's Hemi 'The Heat' Ahio takes on Mohammad Ali Bayat Farid for the vacant WBC Asia Heavyweight Championship. There will also be highly competitive contests between some of the world's most powerful crypto traders.
All earnings from the fight night will be donated to the Amir Khan Foundation. The event will also feature auctions of various crypto-related assets, collectibles and NFT digital art, with all funds to be donated to the foundation.
A spokesperson for Savy Capital, the event's partner, added, "The crypto community is a robust group of individuals and companies that are dedicated to making a difference in today's society. "We are proud to bring them together with the combat sports community in partnership with SBL, where we can showcase the winning spirit, high octane energy, and philanthropic personalities of all involved."
Roy Blackstone, the event's powered by sponsor, said, "SBL and Savy Capital are combining to give the world the first event that merges the boxing and crypto communities in Dubai, one of the world's most incredible cities. "This night will help to bring awareness of both of these communities to the mainstream, and I am proud to support the very first fight night."
Bybit, another powered by sponsor, commented, "Crypto and boxing have a lot in common – striving for excellence, keeping one's composure in challenging circumstances, being resilient enough and coming back again and again even after getting knocked down, and not to mention being often misunderstood. "We at Bybit are glad to be able to help bring some entertainment back, and add a little excitement to the lovers of combat sports and crypto."
Amir Khan has also recently partnered with the United Arab Emirates-based gym chain GymNation to launch his first boxing academy in the Middle East.