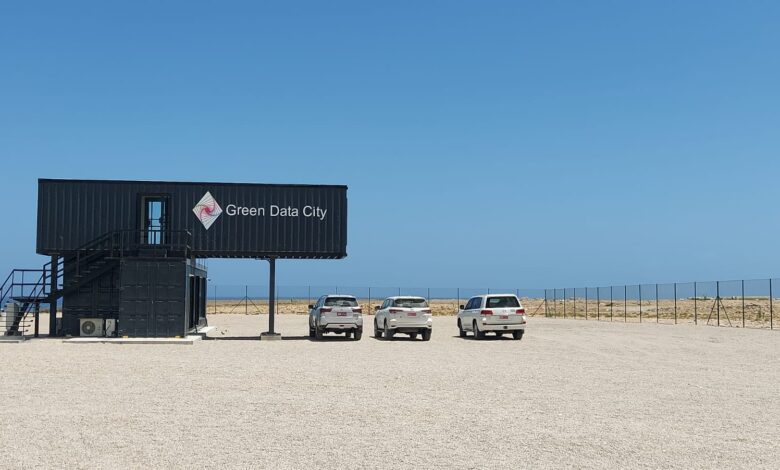 In line with Oman's 2040 vision, the Omani government is actively pursuing technological innovation, particularly in the realm of digital assets. The government has taken significant steps to support and foster the growth of digital innovation, granting licenses to two forward-thinking entities, Green Data City and Exahertz, to operate crypto mining and data centers in Salalah. Green Data City focuses on AI, crypto mining, and cloud computing, and Exahertz is a dedicated mining company.
These developments reflect the nation's commitment to becoming a regional technology hub and are poised to drive economic growth, attract foreign investments, and create high-value job opportunities for Omani graduates in Salalah.
Both Green Data City and Exahertz procure a set number of megawatts directly from the government and are responsible for constructing transformers to transport the electricity from the production station to their facilities.
Sustainable Crypto-Mining in Oman: Green Data City's Pioneering Initiatives
Under the leadership of Oman's Ministry of Transport, Communication and IT, Green Data City, an Omani company, will establish a sustainable data center hub in the South of the country. Green Data City has secured the first license for sustainable crypto-mining operations in Oman, taking advantage of Salalah's cooler climate and high renewable energy potential. Through this license, industrial mining firms are able to directly register with Green Data City Mining and operate within the development. Reportedly, Olivier Ohnheiser, CEO of Green Data City, outlined ambitious plans for the project's growth, with an initial phase focused on substantial mining capacity, followed by an extensive expansion into a hyperscale data center capacity.
Concurrently, the project aims to foster various downstream activities, including renewable energy, sea-water air conditioning (SWAC), desalination, as well as the development of food industries and cosmetics. The expansion will also involve investments in real estate and hospitality, contributing to the establishment of a sustainable hyperscale data ecosystem in the region's burgeoning hub.
Olivier stated, "With the consolidation of the industry under publicly listed industrial miners, the most important criteria when choosing a location are now government stability and power supply security. Oman is one of the best places to diversify mining geographies or to start new mining operations, as it offers long term security and fixed electricity prices in the long run. The country is stable and known to respect its commitments".
Green Data City recently inked collaborative agreements with notable entities such as Phoenix Group and Canaan Creative. The partnership with Phoenix Group, a prominent mining equipment leader supported by MicroBT, will see the development of a sizable one hundred and fifty megawatts mining facility in Salalah within the premises of Green Data City. Recognizing the long-term security offered by Green Data City's mining license, the partners selected the Sultanate of Oman to realize their shared vision for cryptocurrency mining and AI applications, considering the cooler climate and its beneficial effect on energy consumption. Focusing on environmental and social responsibility, the developers plan to construct the $300 million farm using modular units to minimize the impact on the land, incorporating solar shades, and employing skilled technicians from the local community, while also offering learning opportunities for students and graduates.
Furthermore, Green Data City has embarked on a pioneering crypto-mining initiative in collaboration with Canaan Creative, a Singaporean company listed on Nasdaq (CAN). The pilot phase of this partnership will be situated within Green Data City's facility, with an option for Canaan to gradually scale up the operation to a total capacity of one hundred megawatts. The project will initially utilize the Avalon Box mining container, which integrates immersion cooling technology. Additionally, the project envisions the deployment of Canaan's advanced products, including the latest series A14 Avalon miners renowned for their energy efficiency of 20 joules per terahash (J/T), with deployment scheduled for 2024.
Exahertz's Mining Endeavors: Shaping Oman's Blockchain Infrastructure
Exahertz has made significant strides in Oman's blockchain industry by obtaining government approval for a sizable blockchain data center in Salalah. Supported by notable entities like Axeron Capital Holding Ltd and Moonwalk Systems FZCO, Exahertz aims to expand rapidly, intending to invest substantial capital and borrowings to establish state-of-the-art infrastructure sourced from domestic factories. Their partnerships with renowned entities and focus on hydro cooling mining technologies are expected to manage power expenses and ensure effective operations. To operate their two hundred megawatt mining facility, they have joined forces with the prominent blockchain heavyweight Bitmain to manage and supply mining equipment.
The Ministry of Transport, Communications, and Information Technology is actively collaborating with Exahertz and other stakeholders to draw foreign investments. This initiative underlines Oman's commitment to infrastructural development and job creation across various sectors.
Despite recent fluctuations in Bitcoin prices, the successful operation of Exahertz's testing facility highlights the company's ambitious plan to deploy an additional 50,000 operational devices and servers throughout the Sultanate by 2024, which would amount to roughly 10 Exahash in computing capabilities. Their partnership with Tabreed-Oman for sustainable cooling solutions further underscores their dedication to energy-efficient operations. With the backing of key industry players and the Omani government, Exahertz is set to play a crucial role in positioning Oman as a significant blockchain hub in the Middle East.
Jad Fredrick Kharma, Founder of Axeron and CEO of Exahertz, emphasized, "Our project aims to shape the future of software-defined data centers, facilitating adaptable applications in the dynamic computing landscape. I strongly underscore the pivotal role of Blockchain computing in the digital economy. This technology empowers us to invest in web 3.0, Industry 4.0, and AI infrastructure, propelling us into a new era of innovation and development."
He further emphasized the interconnected nature of Blockchain, hyperscale, and energy, stating, "These components are increasingly interlinked. Establishing a robust and efficient infrastructure is vital for success in this convergence. Prioritizing the establishment of a comprehensive framework harmonizing these components is crucial for driving unprecedented progress."
Mitigating Capital Flight Risks: Oman's Evolving Virtual Asset Landscape
In their business operations, Jad emphasized that there is no risk of capital flight, a concern often raised by central banks. The Bitcoins they mine are sold to foreign exchanges, effectively bringing revenue into the country rather than allowing it to seep out.
Dr. Khalid M.W. Tahhan, Co-Founder of Easy Coins, Oman's first virtual assets service provider (VASP) to be registered by the Capital Market Authority (CMA), said "with the establishment of mining operations within the Sultanate of Oman, we are able to convert Bitcoin from being a risk of capital flight at a national level to a new source of revenue for the nation, where by local consumption is achieved through Easy Coins from locally produced Bitcoin and any excess production can be sold internationally in a regulated and compliant manner and deposited in fiat currency within Oman's traditional financial system.
Jad added that it is important to recognize the relative infancy of fintech products in the region and the country. Unlike China or the U.S., there is a learning curve for onboarding and widespread adoption of these fintech products. This necessitates a gradual approach before considering the use of Central Bank Digital Currencies (CBDC) or stablecoins.
While a digital asset framework is still under process in Oman, societal innovation often outpaces regulatory development in various industries and nations. Hence, it is essential to maintain unobstructed societal progress until regulatory protocols catch up.
The CMA is actively drafting a comprehensive and facilitative regulatory framework, encompassing new regulations for all virtual asset activities, a licensing framework for all VASP categories, and a supervisory framework aimed at identifying, assessing, and mitigating ongoing risks.
New Energy Projects Paving the Way in Oman
In addition to conventional energy sources, various initiatives in Oman, including Crusoe, have been focusing on harnessing flare gas. Bloomberg reported that Crusoe, based in Denver, plans to establish an office in Muscat, Oman, to facilitate the deployment of power generators and mining equipment for capturing flare gas at well sites, according to Chase Lochmiller, co-founder and CEO of Crusoe Energy. Despite the initial buzz, information on Crusoe has been scarce since then. However, Unlock Blockchain has been informed of upcoming projects utilizing alternative energy for mining in Oman.
This article has been edited based on an official request, with the understanding that the data mentioned in the original piece has always been accurate.