Government
MENA News
Saudi Arabia and Pakistan Join Forces for Digital Advancement With Focus on Blockchain Technology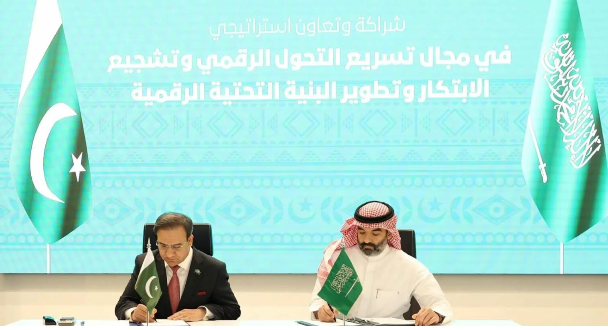 Saudi Arabia and Pakistan have taken a significant step toward strengthening their bilateral cooperation in communications and information technology.
In Riyadh, a memorandum of understanding (MoU) was signed by Saudi Arabia's Minister of Communications and Information Technology, Eng. Abdullah Alswaha, and Pakistan's Federal Minister of Information Technology, Telecommunication, Science, and Technology, Dr. Umar Saif.
Accelerating Digital Transformation: The primary focus of this MoU is to accelerate digital transformation, foster innovation, and develop digital infrastructure in both countries, with a major focus on blockchain technology.
Establishing a Taskforce for Digital Cooperation: A pivotal aspect of the agreement is the creation of a dedicated taskforce aimed at promoting Saudi-Pakistan Digital Cooperation. This taskforce will play a crucial role in coordinating and implementing joint initiatives related to the digital realm.
Strengthening SMEs and Start-ups: Saudi Arabia and Pakistan are committed to nurturing their small and medium-sized enterprises (SMEs) and start-up ecosystems. They plan to achieve this by facilitating the re-location of these businesses and exchanging valuable information about business accelerators and incubators focused on emerging technology.
Collaboration on Policies and Regulations: Both nations recognize the significance of policies, regulations, and legislation in the digitization and electronic manufacturing sectors. Therefore, the MoU outlines their cooperation in these areas to create a conducive environment for digital growth.
Supporting Tech Investments and Venture Capital: Entrepreneurs and enterprises are set to benefit from increased collaboration in the realm of tech investments and venture capital. The goal is to create opportunities for both countries' ICT markets.
Deepening Digital Economy Ties: The ultimate aim of this collaboration is to strengthen ties in the digital economy. Both Saudi Arabia and Pakistan seek to evaluate and qualify companies for collaborative opportunities in their respective ICT markets.
Exploring Emerging Technologies: The scope of collaboration extends to various emerging technologies, including artificial intelligence (AI), the Internet of Things (IoT), robotics, cloud computing, e-gaming, and blockchain. These technologies are expected to play a pivotal role in shaping the digital landscape of both nations.
Investing in Research and Innovation: Joint projects, training programs, and the establishment of innovation centers for advanced technologies, centers of excellence, and university branches are all part of the shared vision to boost research and innovation in Saudi Arabia and Pakistan.
Enhancing Digital Infrastructure: Improving digital infrastructure is a key component of this collaboration. Both countries will focus on enhancing the connectivity of their fiber optic networks, data centers, and cloud computing capabilities.
International Engagement and Knowledge Exchange: The MoU encourages mutual participation in international events and the exchange of information between private and public enterprises involved in IT development and electronics.
The memorandum of understanding between Saudi Arabia and Pakistan represents a significant stride toward leveraging digital technology for mutual benefit.
By emphasizing collaboration in emerging technologies like blockchain, these nations are poised to advance their digital economies, foster innovation, and deepen their ties in the digital realm. This strategic partnership signals a promising future for the digital transformation of Saudi Arabia and Pakistan.