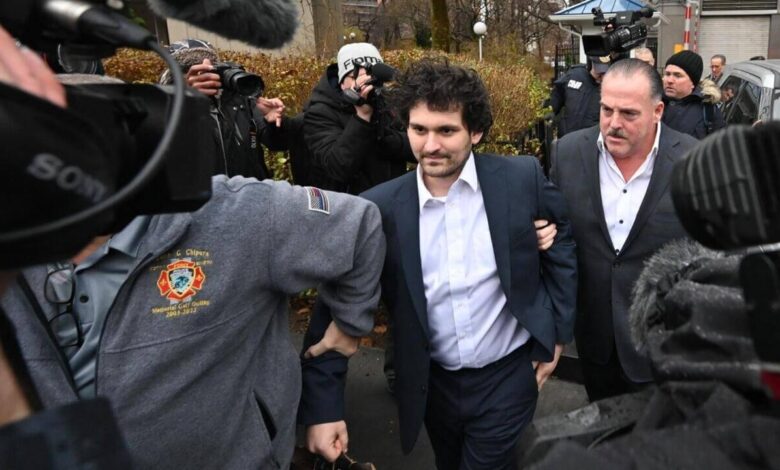 Sam Bankman-Fried, the 31-year-old FTX founder and former CEO, appeared in court after the U.S. Department of Justice moved to return him to jail due to allegations that he violated the terms of his bail by trying to manipulate multiple witnesses.
FTX founder Sam Bankman-Fried has been jailed prior to his October trial for multiple financial crime allegations, following a federal judge's decision to revoke his bond release on Friday. This ruling came after the judge asserted that Bankman-Fried, a former prominent figure in the cryptocurrency world, appeared to have attempted to influence witnesses, displaying a willingness to push the boundaries and potentially cross ethical lines.
Judge Lewis Kaplan from the U.S. District Court for the Southern District of New York stated, "Considering all factors, I have decided to revoke bail." He further explained that there is probable cause to believe that Bankman-Fried made at least two attempts to interfere with witnesses, creating a presumption that no set of conditions could guarantee his non-dangerous behavior.
The Department of Justice claimed that Bankman-Fried's communication with former FTX.US general counsel Ryne Miller and his use of a virtual private network (VPN) to access content such as the Super Bowl were reasons to modify his bail conditions. However, the tipping point was his sharing of parts of former Alameda Research CEO Caroline Ellison's private diary with the New York Times.
Judge Kaplan cited these instances of contacting former FTX employees as he delivered his order. Although the use of a VPN alone might not carry substantial weight, it was seen as reflective of Bankman-Fried's mindset. Bankman-Fried's defense team admitted to sharing portions of the diary with the Times, although they denied any intention to tamper with witnesses. The defense argued that imprisoning Bankman-Fried would hinder trial preparation, but Judge Kaplan remained unconvinced by these arguments.
During the hearing, Assistant U.S. Attorney Danielle Sassoon argued that detaining Bankman-Fried was justified because he frequently visited New York for pre-trial activities without proper supervision. The Department of Justice had alternative proposals if the judge rejected outright detention, including home incarceration with limited internet access. This would have included restricting access to Google Drive, which contained files related to the diary.
Bankman-Fried's attorney, Mark Cohen, contended that the legal basis for pre-trial imprisonment was insufficient, citing past precedent cases. He emphasized that the only reason Bankman-Fried's meeting with a Times reporter was known was due to his compliance with bail conditions. Prosecutor Sassoon disagreed, implying that Bankman-Fried's subtler methods shouldn't be mistaken for harmlessness.
Bankman-Fried is scheduled to stand trial in early October on charges including wire fraud, commodities fraud, securities fraud, money laundering, and related conspiracy allegations. Another trial is tentatively set for next March, covering additional charges brought by the Department of Justice following Bankman-Fried's arrest and extradition. Both the prosecution and defense are expected to submit pretrial motions by August 14.
Despite Bankman-Fried's lawyers planning to appeal the decision and requesting a stay on the bail revocation until the appeal's resolution, the judge denied the stay request. It's important to note that Bankman-Fried's pre-trial incarceration doesn't equate to post-trial imprisonment; a conviction on at least one charge and subsequent sentencing would be necessary for that outcome.