Global News
NFT
DMC: Pioneering the Next Generation of Decentralized Storage with an Innovative Mining Ecosystem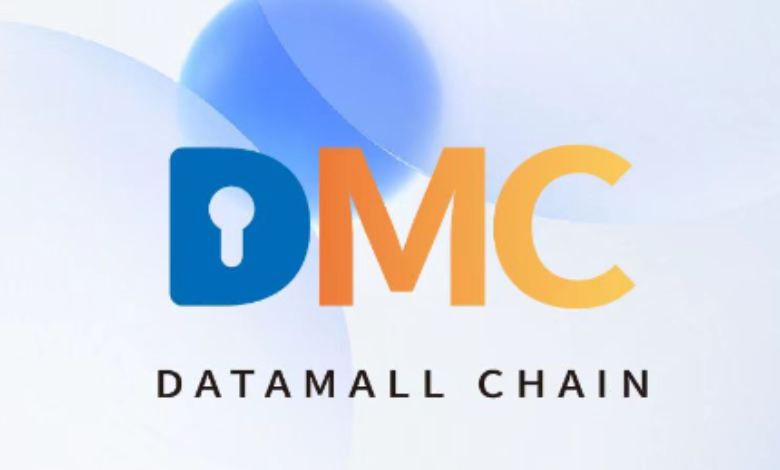 In the Web2 era, the integration of technology and digitalization has made data a critical factor in enhancing efficiency and driving productivity.
As we transition into the Web3 era, data's significance has grown even more, and the worth of digital assets has been well-established. Consequently, in this digital economy era, novel demands and complexities have emerged in data storage and utilization.
Addressing these evolving requirements, Datamall Chain (DMC) is embarking on the development of an innovative decentralized data storage system, accompanied by a corresponding economic model. The aim is to cater to these emerging needs and challenges effectively.
What is Datamall Chain (DMC)?
DMC is a practical utility token. As a new generation of decentralized storage public chain, its goal is to incentivize all real Web3 data transactions and provide stable, reliable, and secure decentralized storage infrastructure for Web3, allowing users to store and exchange data securely.
DMC fully utilizes the decentralized features of blockchain technology and the automation capabilities of smart contracts to provide a brand new solution, while emphasizing data ownership and reliable data transactions.
In the industry, DMC first achieved data storage rights, allowing users to own and control data, providing a solid foundation for data security. At the same time, DMC first applied market mechanisms of supply and demand to blockchain technology, enabling anyone to provide storage services and receive incentives by sharing their hard drive and bandwidth resources, based on Nash consensus.
How does DMC work?
DMC provides a platform for storage matchmaking transactions on the chain. Miners offer their storage space and pledge tokens, which are used to ensure the security and persistence of data, providing guarantees for storage transactions. Moreover, users purchase miner storage space with DMC tokens through the chain and store their data.
Once the transaction is concluded, both parties continue to receive DMC earnings according to the size of the space, incentivizing the provision of storage space and active data transactions.
Using the Nash consensus as its market mechanism, DMC has created an open and transparent storage transaction market. This approach has led to a reduction in storage prices and enabled the decentralization of storage services.
Furthermore, the market mechanism implemented by DMC allows for the differentiation of storage space quality. This means that users can easily locate the most suitable space to meet their specific requirements through an online platform. As a result, data storage and retrieval become effortless and hassle-free with the user-friendly DMC graphical program.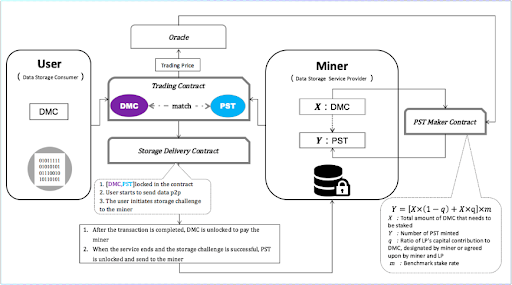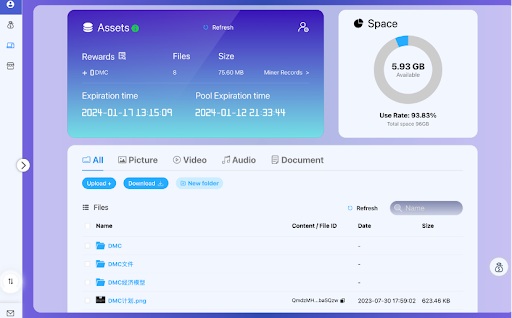 Foggie: DMC's Personal Web3 Terminal for Enhanced User Experience
DMC has launched the ecological product foggie, a personal Web3 terminal, providing powerful personal data management tools for users in the Web3 world.
The significance of foggie to Web3 is akin to the role of mobile phones for mobile Internet. It makes it more convenient for users to participate in the Web3 world.
Foggie has several functions, including:
Wallet: Facilitating the secure and convenient management of digital assets and enabling smooth transactions.
Secure Personal Data Storage and Data Rights: Empowering users to store their personal data securely within foggie and ensuring full control over their data rights.
Data Authorization, Sharing, and Selling: Granting users absolute autonomy in authorizing, sharing, and selling their data, allowing them to independently define the scope of such activities while maintaining complete control over their personal data rights.
Hard Disk and Bandwidth Contribution: Allowing users to share their idle hard disk and bandwidth resources to assist others in data storage, leading to corresponding income.
Purchase and Utilize Miner's Space: Offering users the option to purchase miner's space when their own storage capacity falls short, thereby meeting their data storage requirements and ensuring data rights through smart contracts.
Utilize Computing Power, Storage, and Bandwidth Resources for dApp Execution: Empowering users to leverage foggie's computing power, storage, and bandwidth resources for running various dApps, including chain tools, websites, games, social and streaming media platforms, and gaining exclusive dApp earnings.
The first dApp loaded on foggie
Drops, a one-click NFT minting tool
The new product in the DMC ecosystem, Drops, is a one-click NFT minting tool. Through Drops, users can easily mint any data uploaded to foggie into NFTs, then store, share, trade, and reward them.
This allows users to easily convert their data into NFTs, own the copyright of the data, and enjoy the liquidity and value brought by NFTs.
In addition, by issuing related NFTs, users can also realize data access authorization control to ensure the security and privacy of data.
Future dApp on foggie
Foggie will run an AI model belonging to the user, using the personal data stored in foggie to train a personal AI robot. While ensuring data security, it improves production efficiency and facilitates personal life, promoting the popularization and implementation of AI.
DMC is committed to collaborating with the entire Web3 community to offer a stable and dependable storage infrastructure for Web3 projects, users, and developers. This initiative aims to enhance the experience of Web3 users.
With DMC's active involvement, the progress of Web3 development will be further amplified, fueling the growth of the digital economy and unlocking greater data value. The recent listing of DMC on a centralized exchange stands as a remarkable milestone in the blockchain industry, and the team is optimistic about its positive impact on the future development of the digital economy.