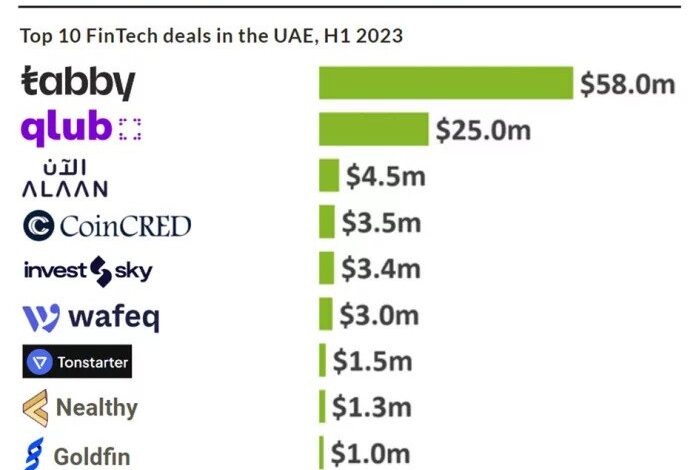 During the first half of 2023, the UAE witnessed a significant surge in the crypto sector, which accounted for 42% of all FinTech deals according to a research done by Fintech Global. However, overall FinTech deal activity in the UAE declined by 54% compared to the previous year, with a total of 24 deals. Moreover, FinTech companies in the UAE raised a combined investment of $101 million during the same period, reflecting a substantial 72% decrease from H1 2022.
Tabby, a buy now pay later provider, secured the largest FinTech deal in H1 2023, raising $58 million in its Series C funding round. The company plans to expand its product line into next-gen consumer financial services and support its growing operations.
In the UAE, Blockchain & Crypto emerged as the most active FinTech subsector, accounting for 10 deals, representing 42% of the total deals. The country's crypto-friendly policies have attracted companies like Ripple, which relocated its headquarters to the UAE. The government's efforts to establish a comprehensive regulatory framework for cryptocurrencies further contribute to the growth of the cryptocurrency sector in the UAE. Additionally, KIKLABB, a government-owned licensing firm based in Dubai's Mina Rashid, now accepts digital currency payments on behalf of the Dubai Financial Services Authority.
The UAE's commitment to blockchain technology is evident through initiatives like the Emirates Blockchain Strategy 2021, aiming to digitize at least 50% of government transactions by the end of 2021. The Central Bank of UAE and the Saudi Arabia Central Bank also collaborated on "Project Aber," exploring the potential of a dual-issue digital currency for settlements.
The UAE's thriving crypto sector is fueled by its progressive regulatory approach and investments in blockchain infrastructure, positioning it as a prominent player in the global crypto landscape.