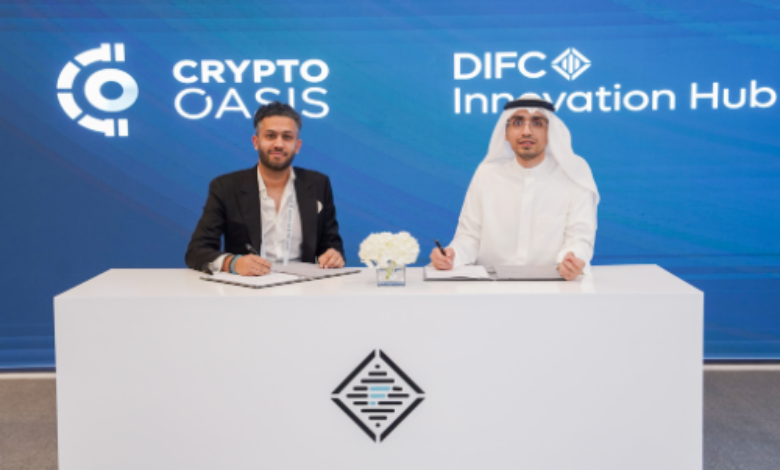 Crypto Oasis Ventures, the driving force behind the rapidly growing Blockchain ecosystem known as Crypto Oasis, has entered into a Memorandum of Understanding (MoU) with Dubai International Financial Centre (DIFC), a prominent financial hub in Dubai.
Under the terms of the MOU, Crypto Oasis Ventures will provide expertise and support to DIFC's Innovation Hub for their ongoing and upcoming start-up accelerator programs.
Concurrently, Crypto Oasis Ventures has officially opened its second office in the DIFC Innovation Hub, solidifying its commitment to expanding its presence in Dubai and reinforcing its position as a key player in the global Blockchain ecosystem.
Faisal Zaidi, Co-Founder, and CMO of Crypto Oasis Ventures expressed enthusiasm about partnering with DIFC, emphasizing the hub's reputation for regulatory excellence and dedication to fostering innovation. By establishing their office within the DIFC Innovation Hub, Crypto Oasis Ventures aims to tap into the vibrant ecosystem, collaborate with like-minded organizations, and explore new growth opportunities.
As a leading global financial center driving economic diversification and innovation in the region, DIFC will play a strategic role in providing Crypto Oasis Ventures with access to a network of global investors, industry experts, and regulatory resources.
This collaboration will facilitate the development of cutting-edge blockchain solutions, positioning Crypto Oasis Ventures at the forefront of the financial sector's digital transformation.
Mohammad Alblooshi, CEO of DIFC Innovation Hub, emphasized the history of partnering with visionary institutions to enable business growth for start-ups in their ecosystem. This partnership will add significant value to start-ups participating in their accelerator programs, allowing them to leverage Crypto Oasis's expertise to enhance their business models.
The physical location of the Crypto Oasis Studio at DIFC Gate Avenue will enhance operations and strengthen relationships with key stakeholders.
By establishing a presence within the DIFC Innovation Hub, Crypto Oasis Ventures aims to attract top talent, collaborate with industry leaders, and form partnerships to drive global adoption of Blockchain technology.