MENA News
The UAE Sets Milestone with World's First AI Institute for Healthcare Innovation at Gulf Medical University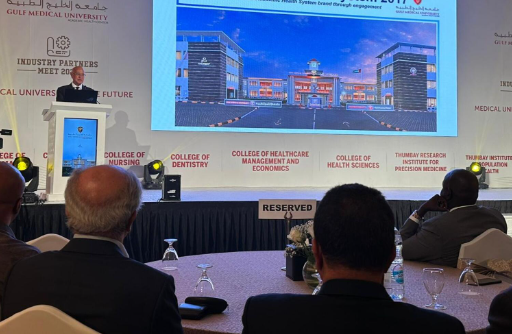 Gulf Medical University (GMU), located in the UAE, has introduced a groundbreaking establishment known as the Institute of AI and Technology in Healthcare.
This innovative initiative aims to enhance the digital proficiency of medical professionals and elevate the quality of healthcare services.
Dr. Thumbay Moideen, the founder president of Thumbay Group, stated that this AI Institute, situated at the GMU campus in Ajman, not only seeks to exploit the potential of artificial intelligence in medical education but also intends to explore emerging technologies such as the metaverse.
Dr. Moideen emphasized that the Institute, slated to commence operations in September this year, will facilitate collaboration among experts in the fields of medicine, computer science, data analytics, and metaverse technology—an interconnected, online, three-dimensional virtual universe that links users across multiple platforms.
Dr. Moideen further commented that the Institute has developed innovative programs and courses that combine theoretical knowledge with practical training.
These initiatives empower students to create advanced AI solutions specifically designed for the healthcare field, including applications within the metaverse.
In an interview with Khaleej Times, GMU Chancellor Prof. Hossam Hamdy elaborated on the motivation behind establishing the Institute of AI and Technology in Healthcare. He emphasized that the world is rapidly evolving, particularly in healthcare delivery and medical research. Therefore, as part of their commitment to innovation, GMU has embraced digitalization and aims to enhance the digital skills of healthcare professionals.
According to Prof. Hamdy, the Institute will provide both short-term and long-term certificate programs. These programs will serve as a stepping stone towards Bachelor's and Master's degree programs, which will be subject to approval and accreditation following the guidelines set by the UAE Ministry of Education.
Prof. Hamdy clarified that the goal is not to transform doctors or nurses into software engineers. Instead, the focus is on equipping them with an understanding of machine learning and the ability to leverage AI in delivering efficient healthcare services.
Prof. Hamdy emphasized that technology will never replace the role of humans in healthcare delivery. Instead, medical professionals will learn to collaborate with machines and harness AI technology to enhance their performance. For instance, doctors, nurses, healthcare managers, and other professionals will acquire knowledge about the distinctions between virtual reality (VR) and AI.
One of the certificate courses available at the GMU Institute of AI and Technology in Healthcare focuses on optimizing administrative tasks to improve diagnostic precision. AI tools will be utilized to analyze information from medical documents, thus alleviating the burden of manual data entry. Other courses will address ethics and legal security, particularly in terms of data protection.
Prof. Hamdy announced that a course on Cybersecurity in Healthcare will be offered by December as well. This course holds significance due to the rising threat of hackers stealing sensitive patient and hospital information. The short course will equip healthcare professionals with the necessary knowledge to safeguard data and other vital information.
Furthermore, Prof. Hamdy expressed the institute's willingness to provide scholarships to students who are interested in enrolling at the GMU Institute of AI and Technology in Healthcare.