Events
WebX Conference Welcomes Distinguished Guests: Japan PM, Yuga Labs CEO, Kabosu and Desdemona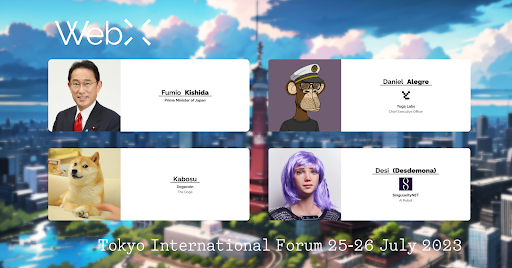 WebX, the premier Web3 conference in Asia, is excited to announce a stellar lineup of distinguished guests for this year's event, including Japanese Prime Minister Fumio Kishida, CEO of Yuga Labs Daniel Alegre, the famous Dogecoin dog Kabosu, and the revolutionary AI robot Desdemona, developed by Hanson Robotics as a sibling to Sophia the Robot.
WebX is a conference dedicated to bridging gaps and fostering connections between Web2 and Web3, Japanese and English, as well as Japan and the global community. With the potential to become Asia's Web3 hub, Japan's presence at WebX signifies the recognition and launch of this potential.
Prime Minister Kishida's participation at WebX highlights the Japanese government's acknowledgment of the importance of Web3 technology in shaping the country's digital future. Their involvement demonstrates a strong commitment to driving technological advancements and cultivating a favorable ecosystem for Web3 businesses.
Yuga Labs, renowned for their contributions to the NFT space and digital art, will share valuable insights into the intersection of blockchain, creativity, and decentralized finance. Their presence at WebX underscores the growing influence of NFTs and their transformative potential across various industries.
Kabosu, the beloved Shiba Inu famously associated with Doge, will bring a delightful touch of charm and humor to the conference. As an iconic figure in the crypto community, Kabosu's participation emphasizes the playful and engaging aspects of Web3 technology.
Desdemona, the AI robot, represents the cutting-edge advancements in artificial intelligence and automation. Her presence at WebX showcases the symbiotic relationship between AI and Web3, highlighting the potential for AI-driven solutions to reshape industries and elevate user experiences.
WebX is honored to have these esteemed guests join us and contribute their unique perspectives to our extensive lineup of speakers. For the latest list, please check here.
Why attend WebX?
It is being produced by Japan's largest crypto media outlet
CoinPost's credibility and deep insights into the industry will give participants access to the latest trends and information, not to mention industry leaders and prestigious speakers.
It is an international conference held in Japan
The fusion of Japanese culture and technology will offer all participants a unique experience, as this is an opportunity for Japan to showcase to the world its role in the evolution of Web3.
Major Japanese gaming companies are participating
Square Enix, known for Final Fantasy and Dragon Quest, Sega, known for Sonic and the Yakuza series, and other household names will discuss integrating gaming and Web3.
Details
Date: July 25 – July 26, 2023
Venue: Tokyo International Forum
Expected number of exhibiting companies: 150+
Expected number of media partners: 100+
Early-bird registration ends in 2 days!
Don't miss out on this opportunity to secure your spot at a discounted rate. Register now on the official website to take advantage of the early-bird offer.