Companies
Global News
Mastercard Files Trademark Application for Blockchain and Cryptocurrency Technologies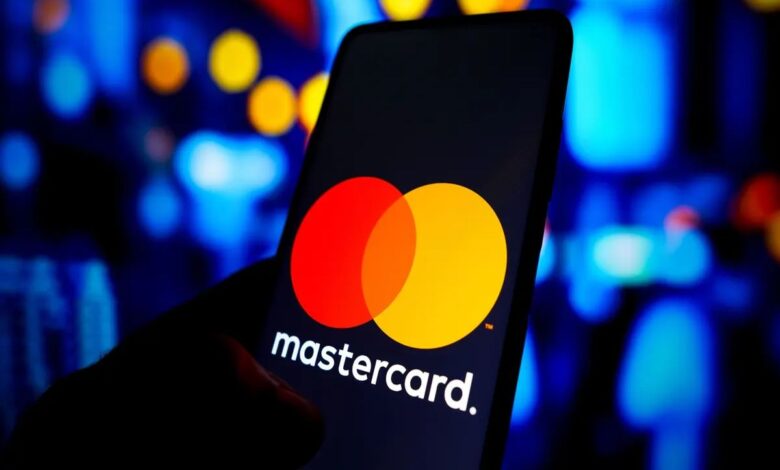 Mastercard has made an intriguing move by filing a trademark application for a suite of technologies related to blockchain and cryptocurrencies.
The application, discovered by patent attorney Mike Kondoudis, indicates Mastercard's intention to develop software specifically optimized for bitcoin and blockchain-based transactions.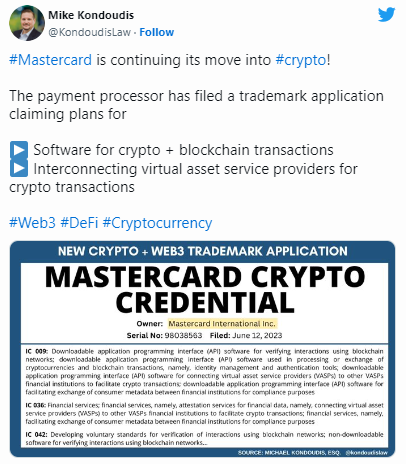 Moreover, the company aims to enhance crypto transactions by reducing the complexities associated with connecting virtual asset service providers (VASPs). This trademark application provides valuable insights into Mastercard's vision for the future of digital currencies.
The disclosed details shed light on Mastercard's plans to create a downloadable Application Programming Interface (API) designed to authenticate transactions within blockchain networks and simplify the handling and trading of cryptocurrencies.
Through the standardization of this API software, communication between VASPs can be streamlined, ultimately making crypto transactions more seamless. Mastercard envisions establishing a platform where financial institutions can exchange customer information for the purpose of verifying compliance.
With this bold move, Mastercard is demonstrating its commitment to exploring and leveraging the potential of blockchain technology and cryptocurrencies. By venturing into this space, Mastercard aims to position itself at the forefront of the evolving digital currency landscape, paving the way for innovative solutions and improved efficiency in the realm of financial transactions.
Mastercard's latest endeavor marks a significant milestone in its expanding footprint within the cryptocurrency industry. In February 2021, the corporation made headlines by expressing its intent to support a select range of cryptocurrencies on its network.
In the same year that witnessed the introduction of crypto cards, Mastercard forged strategic partnerships with prominent players in the crypto space. Collaborations were established with Wirex, BitPay, and the emerging cryptocurrency exchange LVL. Additionally, Mastercard announced a venture with Bakkt, a cryptocurrency business, to offer credit card benefits tailored to cryptocurrency users and other related services.
Mastercard's commitment to the cryptocurrency and blockchain technology sectors has been further showcased by its acquisitions and collaborations. The acquisition of Ciphertrace, a crypto analytics startup, grabbed attention, while partnerships with fintech firm Uphold and renowned crypto exchange Gemini resulted in the creation of innovative cryptocurrency credit cards.
The company's dedication to the advancement of blockchain and crypto is evident through its accumulation of patents and global patent applications associated with blockchain technology.
By continuously expanding its presence and investing in the cryptocurrency ecosystem, Mastercard is positioning itself as a key player in the industry. The company's proactive approach and strategic partnerships demonstrate its commitment to embracing the transformative potential of cryptocurrencies and blockchain technology, solidifying its position as an influential force in the digital financial landscape.