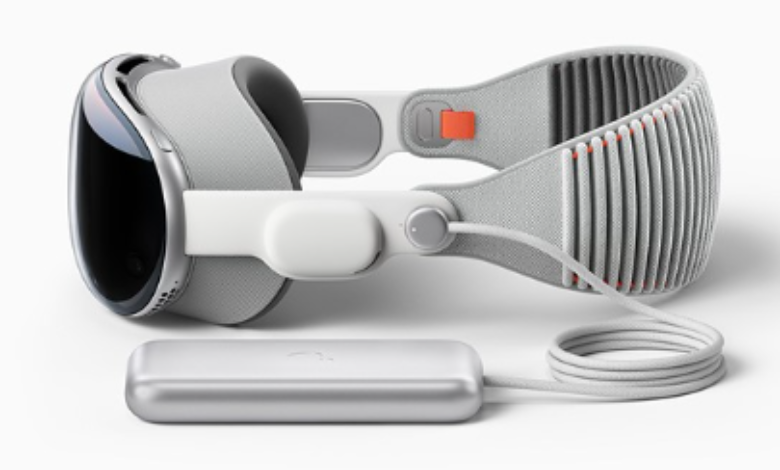 For years, speculations and leaks have surrounded Apple's highly anticipated headset, with rumors dating back to 2017. However, at Apple's WWDC 2023 keynote, the company finally unveiled the actual product, now named the Vision Pro, offering an exciting glimpse into its capabilities.
Designed to support both augmented reality (AR) and virtual reality (VR) applications, the Vision Pro is a standalone headset that stands out for its innovative design, eliminating the need for a dedicated controller.
Instead, Apple has incorporated multiple external and internal sensors and cameras, enabling the device to rely solely on voice commands and hand/eye gestures.
Adding to its features, Apple introduced EyeSight, a new functionality that utilizes the headset's curved display on the exterior. This allows observers to witness a user's reactions while the device is being worn, enhancing the overall immersive experience.
The product is slated for an early 2024 release in the United States, albeit with a substantial price tag of $3,499. Following its U.S. launch, the company plans to introduce the product to other countries in the near future.
Moreover, the Vision Pro offers the convenience of utilizing familiar applications such as Safari and others, ensuring a seamless integration with the real world. The company is also developing a specialized version of the App Store exclusively for the Vision Pro, serving as the primary platform for downloading new augmented reality (AR) and virtual reality (VR) software.
Although primarily designed for home use, Apple emphasizes that the Vision Pro, with updated iterations of well-known apps like FaceTime, serves as an excellent collaboration tool for individuals on the go.
Moreover, during WWDC 2023, Apple made an exciting revelation by partnering with Disney, hinting at forthcoming immersive experiences tailored for the Vision Pro. These experiences encompass enhanced viewing options for Disney+ shows, augmented reality (AR) demonstrations for basketball games, and more. While many of these demonstrations are still under development, Disney CEO Bog Iger announced that the Disney+ app will be accessible on the Vision Pro right from its initial launch.
It is worth noting that Apple's recent announcement marks a distinct departure from Microsoft's Hololens launches and Meta's headsets, as Apple refrains from extensively using terms like "metaverse," "AR," and "VR" in its marketing strategy. Instead, Apple places emphasis on the concept of "spatial" and "spatial computing."
Mike Rockwell, Apple's vice president of the technology development group, highlighted the extensive innovation required to create their inaugural spatial computer. By tightly integrating hardware and software, Apple successfully designed a compact and standalone spatial computer, representing a significant advancement in personal electronic devices.
Sandra Helou, CCO and Co-founder of Metapolis, the first Metaverse as a Service Platform (MaaS) built on a renowned technology stack and powered by a leading L1 blockchain, Zilliqa, commented on the matter, "To me this is more than just a headset, it's technology that's revolutionizing the entire future and concept of what it means to own a computer (laptop, desktop) – definitely needs a couple of cycles to gather user behavior and experiences/journeys, but knowing Apple, they have always been able to push the market to adapt and then reiterate."