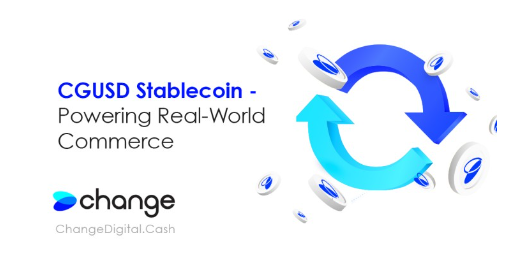 In the ever-evolving landscape of digital finance, Change Digital Commerce Inc. emerges as a promising player, aiming to boost digital commerce in the Web3 era.
As stablecoins are met with skepticism, Change Digital envisions facilitating everyday payments by empowering digital tokens, even for micro-amount transactions.
Within the framework of their initiatives, the company has announced today the launch of CGUSD, its inaugural stablecoin denominated in the U.S. dollar.
This milestone marks the first step towards the team's future plans of introducing stablecoins for other prominent global fiat currencies, such as the EUR and GBP.
The CGUSD token will be globally listed on oneAlpha, an institutional liquidity provider, aggregating 10+ major crypto exchanges and 100+ markets in the digital asset space.
When asked about the new venture, Jimmy Nguyen, Chairman at Change Digital Commerce Inc, told UNLOCK Blockchain, "At Change Digital, our key focus is empowering consumers to seamlessly make payments, regardless of the transaction amount, across diverse digital ecosystems. Our vision is to change the way people engage in online commerce, from online merchants and social media platforms to digital games, IoT environments, and the emerging Metaverse. By enabling micro-amount transactions within these digital ecosystems, Change is poised to redefine the possibilities of everyday digital payments."
To achieve this, the tokens are built on the BSV network, which represents the most scalable version of the Bitcoin protocol.
With its remarkable data capacity, fast speed, and exceptionally low network transaction fees, even down to tiny fractions of a U.S. cent, the BSV network enables facilitating daily payments and supporting Web3 applications.
The STAS protocol, a script-enabled tokenization protocol fully integrated with the BSV blockchain, powers the platform. Notably, Change tokens are built on the Relysia wallet infrastructure and can be easily traded on all Relysia and STAS integrated platforms, including the non-custodial wallet solutions offered by Relysia.
It is worth noting that Change Digital Commerce Inc has recently appointed Jimmy Nguyen as the new Chairman, assuming the role of providing strategic direction and overseeing the company's operations.
With a strong background in the blockchain industry, including his previous positions as Founding President of the BSV Blockchain Association and CEO of nChain Group, Jimmy brings invaluable expertise to support Change Digital's growth.
Known for his regulatory compliance focus and global reputation for building relationships with government entities, Jimmy's extensive experience as a digital technology lawyer will further strengthen Change Digital's position in the market.
His recognition as one of the top influencers in the crypto and blockchain space reinforces the significance of his appointment and sets the stage for Change Digital's continued success.
Jimmy commented on the appointment, "I am thrilled to join Change Digital Commerce Inc as the Chairman and be part of this groundbreaking project. Change has the potential to drastically improve digital commerce in the Web3 era, and I am committed to providing strategic direction and oversight to drive its success. Together, we will empower individuals with digital tokens for everyday payments and reshape the future of the industry."