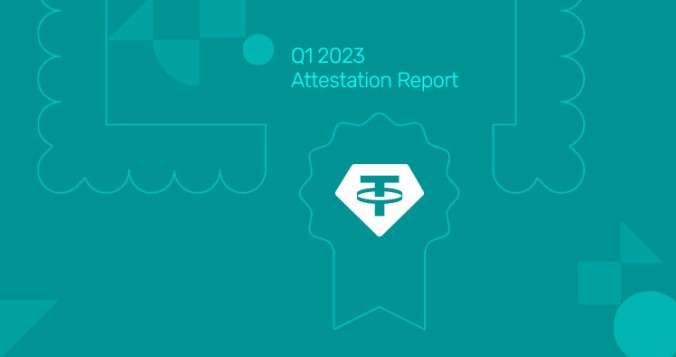 Tether Holdings Limited, a subsidiary of iFinex Inc. which also owns the Bitfinex cryptocurrency exchange, has published its Q1 2023 assurance opinion. The audit was conducted by BDO Italia, a top-five ranked global independent public auditing firm.
The opinion attests to the accuracy of Tether's Consolidated Reserves Report (CRR), which discloses the assets held by the group as of March 31, 2023.
This CRR has increased transparency into Tether's reserves reporting by introducing new categories, such as physical gold, Overnight Repo, Corporate Bonds, and Bitcoin ownership. It has revealed a record high excess of reserves at $2.44B, an increase of $1.48B during the first quarter of 2023.
Tether had a successful first quarter of 2023, with a net profit of $1.48 billion that strengthened its reserves and an increase in token circulation by 20%, indicating customers' trust in the company.
Tether's consolidated total assets reached $81.8 billion, with most of its reserves invested in US Treasury Bills. The company has also taken measures to reduce its reliance on bank deposits by leveraging the Repo market to maintain liquidity and protect its users.
Tether's latest report shows that the majority of its investments are in cash, cash equivalents, and short-term deposits, while secured loans have been reduced by 25%.
The report also highlights the highest percentage to date of assets allocated in US Treasury Bills, with gold and Bitcoin representing approximately 4% and 2% of total reserves, respectively. All new token issuance is invested in US Treasury bills or placed in overnight Repo.
Additionally, Tether's consolidated assets continue to exceed its liabilities, as confirmed by BDO's independent attestation.
As of May 9, 2023, the Company's Management confirms that the Group's total consolidated assets are worth no less than $81,833,149,345, while the consolidated liabilities amount to $79,390,359,036, of which $79,372,401,626 pertains to digital tokens issued. Furthermore, the consolidated assets of the Group exceed its consolidated liabilities.
It is worth noting that for the first time ever, the company has disclosed its Bitcoin and gold holdings in its consolidated reserves report, providing greater transparency for investors.
Tether's success comes as it takes advantage of the problems facing other stablecoins like USDC and BUSD, positioning itself as a trusted alternative in the market.
The company's commitment to transparency and reliable asset backing has helped it maintain its position as a leading stablecoin in the industry.
For the full report, kindly click here.