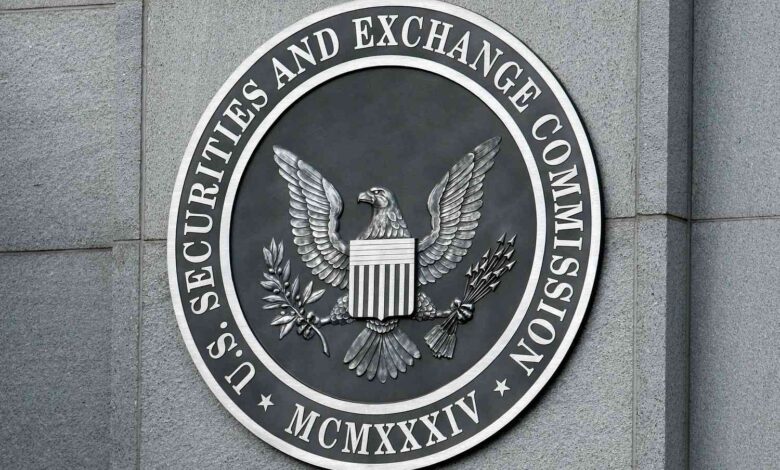 The United States Securities and Exchange Commission (SEC) has set a new record by awarding $279 million to a whistleblower, the highest-ever amount granted by the agency.
The SEC typically awards whistleblowers between 10% to 30% of collected monetary sanctions that exceed $1 million, on the condition that the information provided directly assists in the successful imposition of enforcement actions on a particular case.
The recent award of $279 million, which was granted to an unnamed individual, doubles the previous record of $114 million from October 2020.
This latest award also surpasses the total amount of whistleblower awards granted in 2022, with the SEC awarding $229 million across 103 cases last year.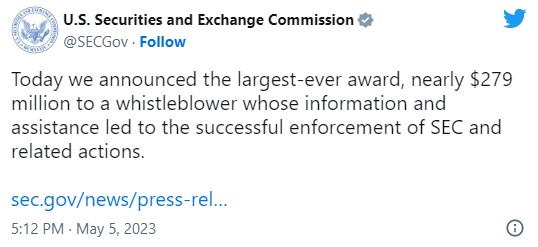 Gurbir Grewal, who heads the enforcement division of the SEC, stated that the largest reward in the history of their program would motivate whistleblowers to provide precise information about potential violations of securities laws. The award demonstrates the tremendous success of the whistleblower program and is funded by a fund established by the US Congress for investor protection.
He then explained that this fund is supported by monetary sanctions levied by the SEC on securities law violators and does not use funds that are owed to affected investors.
To maintain the anonymity of the whistleblower, the SEC did not disclose the specific case to which the award relates or the whistleblower's identity. Therefore, it is uncertain whether the case involves a significant violation in the Wall Street or crypto industry.
The SEC stated that the whistleblower provided critical information in a case that it was already working on, including multiple interviews and written submissions. Although the whistleblower's information did not prompt the Commission's investigation, it broadened the scope of the misconduct charged.
It is worth noting that the SEC's whistleblower incentive program was established in 2010 as part of the Dodd-Frank Wall Street Reform and Consumer Protection Act, which created a comparable program for the Commodities Futures Trading Commission.