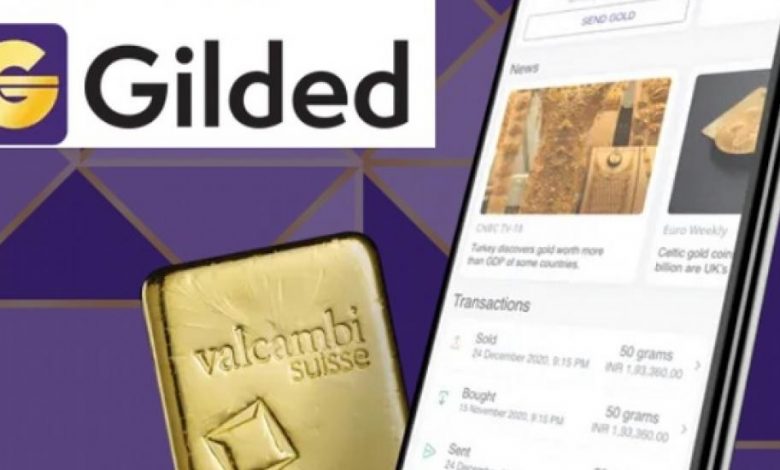 Gilded, a new-age wealth-tech app utilizing permissioned Blockchain for record verification, has launched and is offering long-term savings through fractional investment. As per the announcement Gilded makes it easier for users to start small by purchasing as little as 1 gram of gold through the application. Gilded has launched its application not only in India but also the UAE.
Gilded will offer its customers savings of up to 7-10% when compared to published Indian gold prices, by cutting out the middlemen and sourcing gold directly from Swiss refineries and storing it in Swiss vaults. Gilded will be available to download for free in India, and is also being launched in the UAE, on both Android and iOS via Google Play Store and Apple App Store.
Gilded provides numerous benefits over other local gold investment options, such as the gold being fully insured, fractional ownership, ethical sourcing, easy 24/7 accessibility, convenience of sending the digital gold worldwide, low costs to sell, ease of receiving funds after a sale, proof of gold authenticity, exclusively Swiss refined and stored gold, and safety from financial system risk. The Gilded app, previously known as Digital Swiss Gold (DSG), is updated and incorporates improvements based on thousands of users' feedback over the past six months received via the Digital Swiss Gold app. As the Indian market becomes more comfortable with the benefits of digital gold, such as ease of use, savings, and security, Gilded will be able to cater to the millions of Indians who are interested in gold.
Gilded provides transparent pricing, safety, security, quality, and trust. Free storage is included for the Gilded gold consumer. All gold purchases are legally the property of the client, stored in fully insured vaults, independently audited, and recorded permanently on a private permissioned blockchain to establish immutable title. All clients are issued a proof of ownership in the form of a digital warehouse receipt, which contains vital information such as their gold holding's account number, bar serial number, blockchain reference and vault location. A picture of the buyer's gold bar and a certificate of authenticity is also provided on the app. All gold purchased through the Gilded app meets the highest standards, with the gold being Swiss refined and of 0.9999 fineness. All gold holdings are independently audited.
Ashraf Rizvi, Founder and CEO of Gilded and Digital Swiss Gold, said on the launch, "Indians have always had an affinity towards gold as an investment asset as it acts as a hedge against inflation. The need for wealth protecting investment assets has increased since the pandemic and investors are looking for options that are not only profitable in the long run but will also help safeguard their invested money. Digital gold has increasingly caught the eye of investors as it offers all the benefits of gold along with ease of trading and transactions in smaller denominations. With the launch of our new and improved Gilded app, we aim to leverage all our learnings from our Digital Swiss Gold app to provide Indian and UAE consumers a better way to access gold investment and all the benefits of gold ownership through today's leading technologies."
The new Gilded app, like the Digital Swiss Gold app, provides a convenient way to buy, sell and hold physical gold stored in fully insured non-bank vaults in Switzerland. Gilded will now allow users to send and receive digital gold as a gift to their loved ones through the mobile app. Users will have the option to choose from a variety of virtual gift wrappings and will be able to add personalized messages. With Gilded's growing international presence, this is an innovative way of exchanging gifts on special occasions in different countries covered by Gilded and even for sending remittances in the form of digital gold without any additional charges.
Gold purchased through Gilded meets the highest standards, being Swiss refined, of 0.9999 fineness and compliant with all London Bullion Market Association (LBMA) gold bar specifications. Gilded is registered in Jersey, Channel Islands, with the Jersey Financial Services Commission, the principal financial services regulator in Jersey. Gilded also utilizes Jersey Trust Company as an independent administrator.