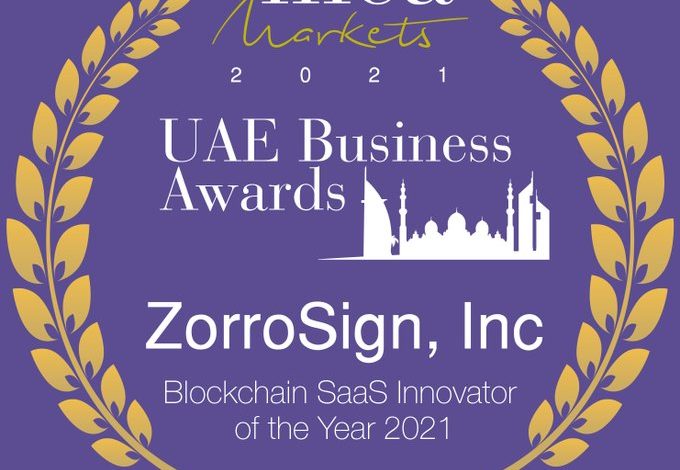 ZorroSign, with its roots in the UAE, and a leader in digital signature technology and the global provider of ZorroSign DTM—a secure platform delivering digital signature and digital transaction management, has been named "Blockchain SaaS Innovator of the Year 2021" at the UAE Business Awards 2021. This awards program honors the businesses and individuals that innovate and have helped to establish the United Arab Emirates as a global knowledge hub and the top destination for new initiatives. Through these awards, MEA Markets looks to celebrate the best firms, teams and individuals, who have worked relentlessly throughout the year, offering the best products and services in one of the most prosperous and significant business regions in the world.
The Blockchain SaaS Innovator of the Year award is assessed along criteria including business performance, longevity, diversification, growth (either sustained or rapid), any significant innovations, and feedback from stakeholders.
ZorroSign is a Digital Business Platform (DBP) built ground up on a private permissions based blockchain. Building the technology from the ground up on the blockchain has allowed the ZorroSign DBP to focus on the core areas that are of most importance: User Privacy, Data & Document Security, and User Authentication and Validation.
"ZorroSign is thrilled to be recognized for our blockchain prowess," said Shamsh Hadi, CEO and co-founder. "Using blockchain technology to deliver the highest levels of data privacy and security for digital signatures, IDaaS, digital workflows, and document management solutions has created strong value for our customers in the UAE, United States, India, and other countries around the world."
UNLOCK had interviewed Shamsh Hadi, who discussed their upcoming product launches and expansion plans globally. Zorrosign is already implementing projects in the UAE, KSA and elsewhere in MENA with governmental and enterprise clients.