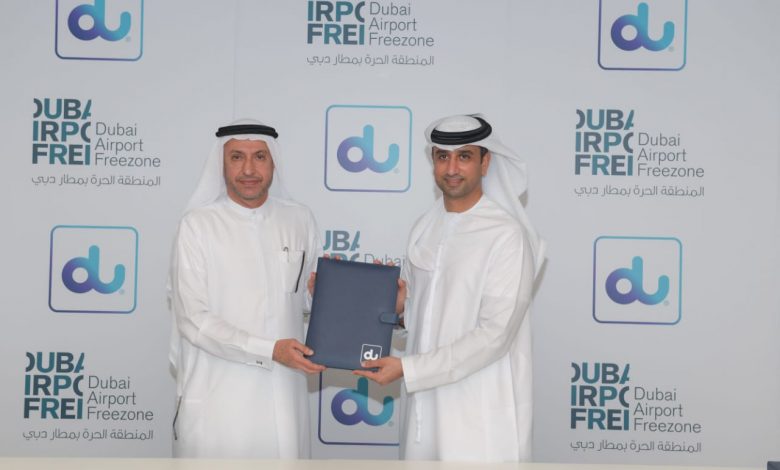 The automation licensing process and no Objection certificate built on Blockchain Edge will launch in Q3 of 2021
du, from Emirates Integrated Telecommunications Company (EITC), has partnered with Dubai Airport Free Zone Authority (DAFZA) to automate licensing processes for activities that require a no-objection certificate (NOC) from other government agencies in a single platform enabled through blockchain. The collaborative partnership will see the two parties take full advantage of the UAE's first locally hosted blockchain service, the Blockchain Edge, and contribute to the vision of H.H. Sheikh Mohammed bin Rashid Al Maktoum, Vice President and Prime Minister of the UAE and Ruler of Dubai, to increase the emirate's competitiveness by simplifying procedures and, attractiveness to investors. This also comes in line with the directives of H.H. Sheikh Hamdan Bin Mohammed bin Rashid Al Maktoum, Crown Prince of Dubai and Chairman of The Executive Council to reduce government procedures for doing business by 30% to be implemented within the next three months.
The new solution provides many advantages for DAFZA companies, including speeding up the issuance of new licenses or adding commercial activities restricted by the No Objection Certificate from other government agencies. The solution readiness is in Q3 this year. It will facilitate the exchange of information between government entities and support businesses seeking to expand beyond their existing remit by using blockchain technology while maintaining a high level of security through encryption.
H.E. Dr. Mohammed Al Zarooni, Director General of DAFZA, said: "DAFZA is committed to investing and relying on advanced technology to enhance the experience of freezone companies and prospect investors, in line with the vision of His Highness Sheikh Mohammed bin Rashid Al Maktoum, Vice President and Prime Minister of the UAE and Ruler of Dubai, by transforming the Emirate of Dubai into a city fully managed by the Blockchain platform. This new technology movement will generate a wave of economic opportunities and digital innovation, which will enhance the business community's confidence and reliability in digital transactions and increase the competitiveness of The Emirate of Dubai in the smart global economy.
Dr. Alzarooni added: "This pioneering cooperation with du aims to facilitate the procedures for establishing and doing business and simplifying government requirements, which is in line with the directives of His Highness Sheikh Hamdan bin Mohammed bin Rashid Al Maktoum, Crown Prince of Dubai and Chairman of the Executive Council, in motivating and ensuring the continuity of business practice. We are proud of the positive results achieved by both parties to launch this platform, which is the first of its kind in the UAE, where we value all the efforts and facilities provided by our partner in success du."
Fahad Al Hassawi, CEO at du said: "Today's collaboration represents our commitment to accelerating the UAE's digital transformation by supporting government entities deliver sustained success by taking full advantage of burgeoning blockchain technology. DAFZA is dedicated to delivering business excellence and innovation – and automating the NOC process is a step forward in enhancing the lives of residents as well as strengthening the UAE's digitization agenda."