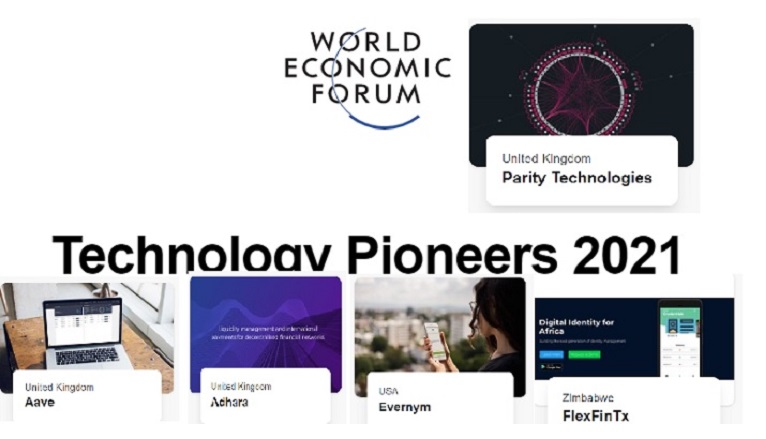 The World Economic Forum has announced the list of 100 early to growth stage companies Technology Pioneers of 2021.
As per the World Economic Forum website, " By joining this community, Technology Pioneers begin a two-year journey where they are part of the World Economic Forum's initiatives, activities and events, bringing their cutting-edge insight and fresh thinking to critical global discussions."
According to WEF, Technology Pioneers are an integral part of the Forum's Global Innovators community, which is an invitation-only group of the world's most promising start-ups and scale-ups that are at the forefront of technological and business model innovation.
This year five Blockchain startups were chosen to be among the tech Pioneers for 2021. The startups are Aave UK, Adhara UK, Evernym USA, FlexFin TX Zimbabwe and Parity Technologies UK.
Aave is a decentralized and open source protocol that offers a variety of financial tools and services. Users can earn interest on deposits and swap and borrow digital assets. Aave is self-custodial, so when a user makes a deposit, no company or centralized authority controls their funds. The whole system is trustless – loans are automatically negotiated by a series of smart contracts, so depositors and borrowers can be complete strangers.
While Adhara believes that blockchain technology, smart contracts and the tokenization of money in particular are powerful tools to make wholesale financial markets more efficient and secure, allowing banks to reduce the levels of liquidity and conduct their payment operations in real time, with fewer errors and with increased security. Adhara builds products and solutions for the benefit of banks, leveraging widely accepted standard, open-source, enterprise-grade blockchain technologies.
Adhara aims to provide central bank digital currency (CBDC)-ready liquidity management, foreign exchange and cross-currency payment solutions for banks, central banks and corporations, leveraging standard, open-source, enterprise-grade blockchain technologies widely used by the financial community.
In addition Evernym's software enables organizations to immediately verify information in a secure and privacy-preserving manner. It provides organizations with the tools to issue and verify digital credentials and it provides consumers with a digital wallet app that puts them in control of their data.
Interesting is FlexFinTX which is the only startup from Africa. FlexFinTx is empowering the 400 million Africans who lack proper forms of identification to build self-sovereign digital identities so that they can prove who they are at any time, even without the internet. Using the FlexID digital identity wallet, it is enabling access to financial, insurance, healthcare and government services through an interoperable and decentralized network. According to FlexFinTX, "FlexID is building Africa's largest decentralized digital identity network, aiming to foster financial and healthcare access, among others, for over 400 million Africans."
Finally Parity Technologies is a core blockchain infrastructure company. It is creating an open-source creative commons that will enable people to create better institutions through technology. This started with work building Ethereum. Today, Parity is focused on Substrate, an industry-standard blockchain framework. It has used it to build Polkadot, a decentralized web blockchain meta-protocol, securing and connecting crypto-economies to the world.