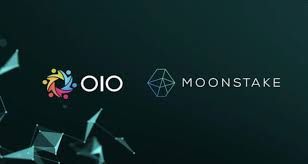 Singapore Based blockchain solutions provider, OIO Holdings Limited ("OIO"), announced that it has completed the acquisition of the second-largest staking network in Asia , Moonstake, on 31 May 2021. This acquisition will allow OIO to now own 100% of Moonstake which will be satisfied by the issuance of new ordinary shares of the Company.
Moonstake was founded in 2020 with the goal of becoming Asia's largest staking pool. As of 31 May 2021, Moonstake is Asia's second-largest staking business[1], with more than US$900 million in staked assets.
OIO will be able to recognize the approximately 0.3%-0.5% commission that Moonstake is charging its users for their staked assets after the completion of this acquisition.
"Moonstake is the perfect acquisition for OIO. Crypto investors are clamouring for a single platform to provide crypto-asset investment opportunities such as staking. The commission-based model provides us with good visibility of earnings, being added to our current Blockchain Business," said Rudy Lim, CEO of OIO Singapore Pte Ltd, OIO's blockchain business subsidiary.
Looking ahead, by leveraging its experience and network in blockchain space, OIO intends to grow Moonstake's user base and its staked assets, as well as increase valuable services and features for users to access through a single platform, which results in a recurring revenue for the Group. OIO also foresees Moonstake enhancing its position in the growing blockchain finance space and synergizing with existing consulting services with blockchain finance through this acquisition.
The popularity of staking is increasing as major coins are starting to shift away from the traditional method of Proof-of-Work (POW) through mining to Proof-of-Stake (POS) technology. POS produces and validates new blocks through the process of staking, allowing new blocks to be produced without relying on specialised mining hardware. In comparison to POW, POS is energy-efficient and is expected to improve issues such as power consumption and computational power costs.[2] Cryptocurrency holders who lock their coins may also get a certain return by participating in staking.
This marks a major milestone for OIO in the expansion of its blockchain business, with the addition of staking as a new business model. Backed by Infinity Blockchain Group, which has more than 40 blockchain specialist engineers, OIO will set itself apart as an established provider of blockchain technology and a leading developer.