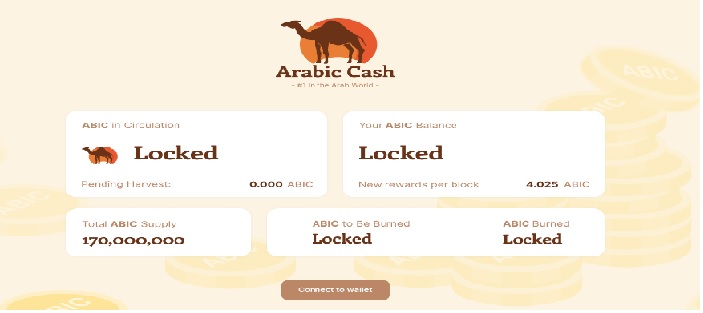 A new DeFi project which claims to be based out of the UAE has launched under the name of Arabic Cash. According to their medium post, " The DeFi project Arabic Cash is based on the most advanced crypto technology of 2021, the Binance Smart Chain of the BEP20 protocol in the Solidity programming language."
The post adds that this provides the ABIC token with the most reliable protection, the highest transaction speed and the lowest fees for it. This allows investors to be calm about their assets in any quantity, and also promises them a guaranteed profit of 35.6% per annum for keeping tokens in the liquidity pool.
Arabic Cash aims to develop e-commerce for the entire Arab World, which is the most promising and ambitious vision for the entire region and even the planet for the coming decades. The United Arab Emirates has taken a direct course towards building the strongest core of the crypto industry in the world. Since the technology of decentralized finance does not depend on the intervention of traditional regulators, Arabic Cash can become a powerful auxiliary tool for the implementation of the Emirates Crypto Strategy.
The team at Arabic Cash state that they chose Binance because Ethereum's current gas fees have been exorbitant to say the least and the barrier to entry for participating in on-chain activities is only getting higher and higher. Enter Binance Smart Chain. the post states, " By leveraging BSC, we will be able to increase the speed of transactions while massively reducing the fees at the same time."
Currently the Arabic Cash team are launching their token sale. The Arabic Cash developer team will only receive less than 1% of all ABIC farmed (i.e. the Arabic team gets 1 ABIC token for every 100 ABIC farmed). Maximum rewards for ABIC stakers. The ABIC-BNB pool will earn 10x rewards compared to other pools. The first Binance Smart Chain AMM to offer alt-coin liquidity pools (LPs) such as LINK, DOT, etc.
The post adds, " Arabic Cash is the next iteration of the now infamous Uniswap. It's like Uniswap, but faster, cheaper and dare we say it… tastier? In addition to all of the above, liquidity providers will also be rewarded with ABIC tokens from which they can earn a share of ABIC's trading fees and use for voting as part of ABIC's governance.
Initial Liquidity Pools(LPs)"