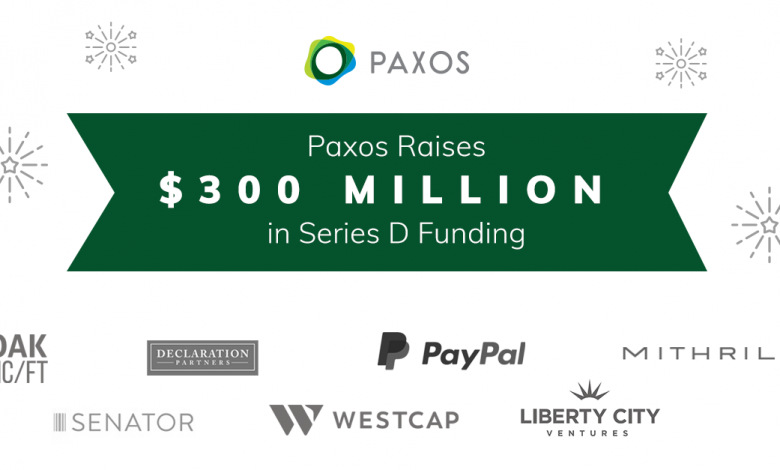 Paxos has secured 300 million USD in Series D rounding bringing total valuation to 2.4 billion USD
Paxos, regulated blockchain infrastructure platform has closed a $300 million Series D round of funding. Oak HC/FT led the round, with participation from previous investors Declatation Partners, PayPal Ventres, Mithril Capial, Senator Investment Group, Liberty City Ventures Westcap and more. To date, Paxos has raised more than $500 million in funding and with a valuation of $2.4 billion, Paxos is one of the fastest growing fintech startups in the world.
Charles Cascarilla, CEO and Co-Founder of Paxos, commented, "Demand for our enterprise solutions has accelerated much faster than we could have anticipated. It validates our approach to providing the most innovative and regulated enterprise solutions to replatform the financial system and create the digital economy of the future."
As per the announcement, Paxos will continue investing in the development of enterprise-grade infrastructure while deepening its commitment to regulation, reliability and security. The company will accelerate growth by hiring new team members across all functions, scaling its operations, increasing platform capacity and investing in innovation. Additional liquidity will also be added across the platform to enhance the customer experience and increase utilization of its tokens. To continue the development of its robust, regulated platform, Paxos also plans to establish the Paxos National Trust Bank, support its application for a Clearing Agency registration with the Securities and Exchange Commission and pursue its Major Payment Institution license in Singapore.
Patricia Kemp, Co-Founder and Managing Partner at Oak HC/FT, said, "Since securing the first Trust charter for digital assets in 2015, Paxos has distinguished itself as an innovator in fintech by embracing regulation. Its solutions are designed to ensure trust with enterprise clients while enabling exciting new business opportunities. Few companies are approaching digital assets with such a clear vision as to how blockchain technology can revolutionize the transfer and creation of value. We're excited to support Paxos at this pivotal time in the evolution of the global financial system."