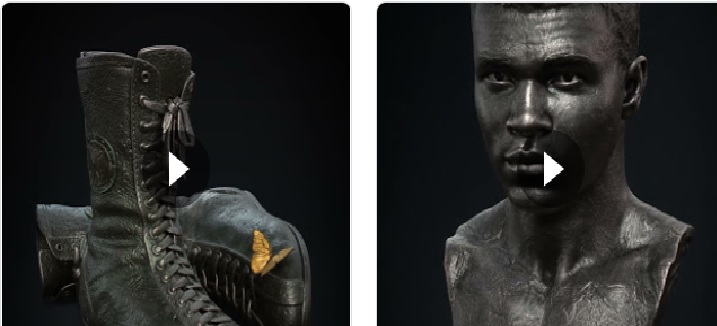 Muhammad Ali Enterprises (MAE) and philanthropy-focused blockchain platform Ethernity Chain (CCC:ERN-USD) "The Muhammad Ali Collection" in partnership with Raf Grassetti, one of the foremost digital sculptors in the NFT community. The auction will begin on May 1 at noon EDT, exclusively at www.ali.com (powered by Ethernity) and a portion of the proceeds will be donated to The Muhammad Ali Center.
The Muhammad Collection is comprised of four pieces: Float, Sting, G.O.A.T, and Wings. The first, an open edition, depicts boxing shoes of the likes that Ali wore ($499). The second, a limited edition of 500, features a dangling pair of boxing gloves with Muhammad Ali's signature ($1,000). The third, a limited edition of 100, portrays Ali at different stages of his life ($5,000). The last is an edition of 1 inspired by Ali's famous quote "The man who has no imagination has no wings" (final auction price TBA). Additionally, one of the NFTs will come with a physical pair of boxing gloves signed by Muhammad Ali and an Infinite Objects frame.
"We are thrilled to partner with Muhammad Ali Enterprises and Raf Grassetti on The Muhammad Ali Collection," said Nick Rose, Founder and CEO at Ethernity Chain. "Muhammad Ali had a lifelong mission to help those in need, and our mission at Ethernity is to focus on charitable causes with our groundbreaking projects, making this partnership a natural fit."
"Muhammad Ali inspired me in my personal and professional life as he did to most of us," says artist Raf Grassetti. "It's an honor and privilege to use my craft and work with new technologies to celebrate his life and create this collection to help us remember the Greatest Of All Time."
Authentic Brands Group (ABG), a brand development, marketing, and entertainment company, owns Muhammad Ali Enterprises in partnership with Lonnie Ali as trustee of the Muhammad Ali Family Trust (MAFT).